How Publishing Can Prosper in a Mobile-First World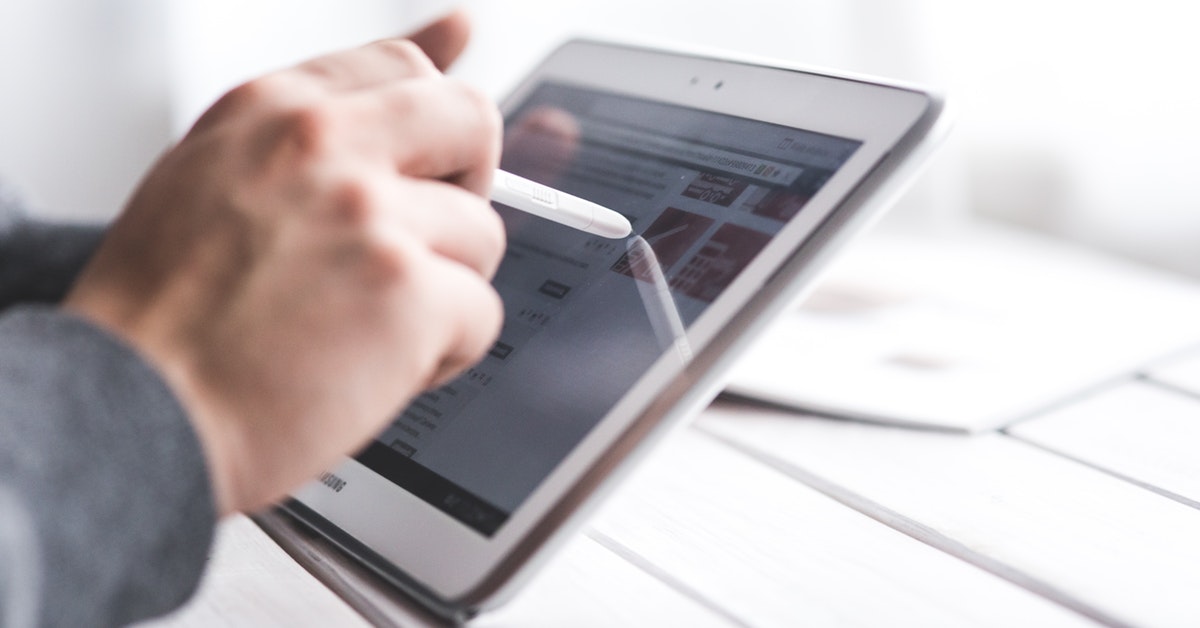 As technology advances, it will continue to reshape the digital publishing industry and the way in which we consume content. Mobile is now the platform of choice, with the number of people consuming content on mobile devices continuing to rise. In order to successfully compete in the industry, publishing strategy needs to focus on a mobile-first approach.
We have known it for a while, the era of traditional print is over. Digital publishing trends have continued to evolve, but no change has been quite as impactful as the widespread shift towards mobile. The rise of digital has completely transformed the way we consume content – through mobile devices. As such, mobile presents an immense opportunity for the publishing industry.
Mobile drives content consumption… 2017 will be the year that magazine apps enhance the print experience, and that publishers will learn to capitalise on app technology – Ron Mateko, Publishing Executive
The evolution of innovative technologies has transformed the nature of publishing. The proliferation of smartphone and tablet devices has made digital content a critical component of effectively communicating with audiences. It has become clear that the predominant way people consume content today, and even more so in the future, will be on a digital platform.
It is important to adapt your strategy to fit your audience. Implementing a mobile publishing platform, such as an app, is the most effective way to reach your audience in the space where they spend the most time. Not only this, a mobile app can enhance the content experience, increase market penetration and potentially create new revenue streams.
Related 3 Factors Driving the Future of Digital Publishing
The Shift to Mobile
The mobile experience comes first in consumers' minds today. Despite this global shift, most businesses still lack the mobile-first mindset. A problem arises when publishers fail to update their publishing strategy to appeal to the rapidly growing mobile market and ever-changing expectations of consumers.
With the ongoing shift to mobile, the way your audience consumes content is changing rapidly. Until recently, websites have dominated the distribution of news and media, but now the shift is from desktop to mobile. Mobile internet traffic surpassed desktop traffic globally in 2016 (StatCounter). According to the American Press Institute, mobile devices have become the primary platforms for news. More specifically, Nielsen found that 89% of the adult U.S. population with a mobile phone access news and information from their device.
Unsurprisingly, mobile apps now represent the majority of digital media consumption among users (comScore). When a mobile user downloads your app, they are generally more dedicated and engaged than web visitors. In fact, mobile apps are used more often, and for longer, than mobile sites (Adobe). The prolonged nature of app sessions translates into a great opportunity for brands to consolidate customer relationships and take advantage of users' high level of engagement.
According to a 2017 report by comScore, mobile apps make up 87% of total mobile minutes. Another study by Flurry reported that mobile apps take up 92% of total mobile time. Therefore, roughly 90% of our mobile time is spent using apps. Not to mention, mobile users who access news content through apps spend triple the amount of time reading compared to Web (Nielsen).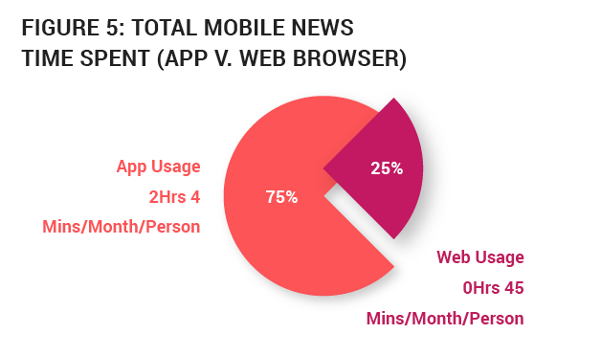 To date, the mobile opportunity has been underutilised, with publishers failing to take advantage of the benefits of digital devices such as smartphones and tablets. Mobile-friendly websites are no longer enough; mobile apps offer unique features and benefits that make it more engaging experience than Web. Businesses that create mobile apps are able to capture the connected consumer and reach an even wider and more engaged market than before.
Related Mobile-First: An Opportunity to Drive Digital Transformation
Solving the Mobile Challenge
Mobile apps provide businesses with the opportunity to stand out from the crowd by offering a visually appealing and interactive environment. Integrating a mobile app into the editorial process not only saves time by increasing workflow efficiency but also allows you to provide your customers with a unique and personalised experience. Therefore, an app is a surefire way of staying competitive and securing a strong presence in your industry. Not to mention, any inaction regarding mobile app strategy may result in falling behind the competition.
It is important to consider solutions that can either integrate with your existing content management system or, provide one holistic platform that can seamlessly deliver content to a variety of channels from a single source of truth. The best platforms not only allow you to convert content to mobile-friendly formats but also push that content to a range of channels such as cross-platform apps, web and print.
Here are a few best practices to consider when developing your mobile publishing app:
#1 Navigation
As screen size decreases, so does our tolerance for a bad user experience. App navigation should be easy and intuitive. Users should be able to quickly find the content they are after or that is most relevant to them. By organising your content into category sections or implementing a search bar, you can ensure that all content is only a few taps away.
#2 Orientation
It is important to check that your content looks good in both portrait and landscape orientation. Content should be optimised to fit any devices screen size or orientation in order to ensure a superior mobile user experience.
#3 Clutter
Try and remove anything extraneous from your mobile app design that doesn't immediately add to the overall user experience. Each screen should have one central focus or action. A simple and organised structure will help prevent user confusion and potential app abandonment.
#4 Fonts
Ensure all fonts you use are practical, functional, and appropriate for viewing on a mobile device. Due to the on-the-go nature of mobile devices, it is crucial that the font you choose makes for easy skim reading, as well as being appropriate for longer reading sessions. Steer clear of fonts that are too fine, condensed or difficult to read on small screens as this will result in a poor user experience.
#5 Images
Poor app performance can lead to a negative user experience costing you downloads, revenue and brand perception. It is important to optimise images in order to keep load time short. By compressing and resizing images you can greatly improve overall app performance and save your users from wasting their mobile data.
#6 Touch
It is important to design your app with touch in mind. For example, links that are tightly packed together on a mobile screen will lead to touch errors and heightened user frustration. As such, ensure that all buttons are large enough to press without zooming in on the screen. Try and accommodate common mobile gestures such as swipe to navigate to the previous/next article.
#7 Sign-up
Users tend to make far more errors and are slower when typing on mobile devices. It is crucial that users can subscribe, pay, and get access to your content as quickly and seamlessly as possible. Try and avoid overwhelming users with lots of data entry. Create forms with a logical order and minimise the number of text inputs.
#8 Content
To maintain user engagement, it is important to keep your content fresh and up to date. Another way to enhance the user experience is through combining appropriate content and tone of voice with engaging visual design and the subtle use of transitions. Implementing transitions, such as 'related' content, ensures that your users never confront a dead end in your app. This is a great way to encourage continued engagement without overwhelming users with choice.
#9 Customisation
Provide users with a superior mobile experience through customisation and personalisation. For example, interactions can be tailored specifically to each user's unique preferences, location and usage behaviour. This will help increase the user experience, engagement and success of your app.
#10 Functionality
It is important to leverage the various unique features of a mobile device such as GPS, SMS, camera, and other functions to increase engagement and create a stronger user experience. For example, delivering content in relation to a users location is a successful technique for re-engaging users and maintaining app retention.
#11 Notifications
In order to keep users engaged and consuming content in your app, it is important to notify them of new or relevant content. Through collecting user data and compiling user profiles, you can segment and deliver personalised notifications to each user based on their interests and usage behaviour. This offers an excellent opportunity to grab their attention and bring them back to your app at the optimal time.
Related Why Do Businesses Need a Mobile App?
Related Rethinking Content Marketing with a Native Mobile App
---
Publishing is poised to capitalise on a mobile-first world. In this digital age, apps are an interactive and engaging way to communicate with your target audience. Apps created with Liquid State allow you to publish personalised and relevant content directly to your audience's devices.
Have you found the right app development platform to execute your mobile strategy?
At Liquid State, we understand the importance of implementing enterprise mobile app software as a part of corporate strategy. Our platform empowers businesses to build native apps for a variety of business functions. To find out what Liquid State can do for your business, get in touch with us today.