Top 8 Reasons to Improve Patient Communications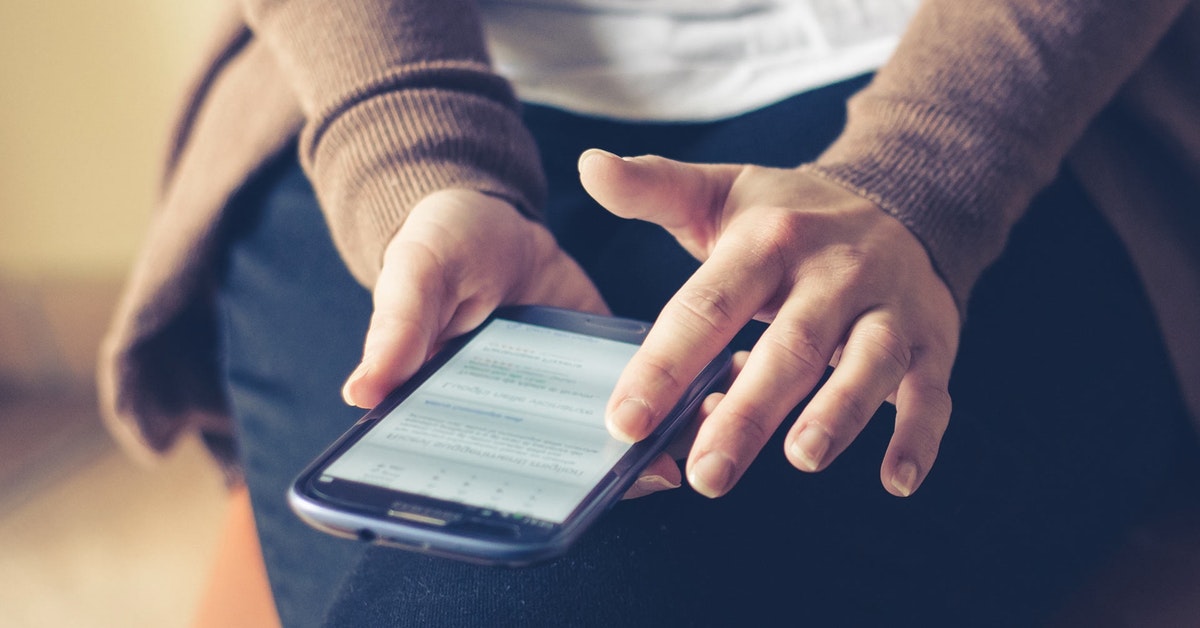 The future of healthcare is being shaped largely by the patient engagement evolution. In this new world of health care, effective patient communications and engagement will continue to control the course of success. It is all about the right care, in the right place, at the right time.
Achieving better health requires the patient to be armed with the right tools and information. Here are the top 8 reasons why healthcare organisations should improve their patient communications…
#1 Meet Patient Expectations
As smartphone usage continues to grow, so does the demand for mobile healthcare access. Approximately 56% of patients are now demanding access to their healthcare communications via personalised apps (Red Hat). Another survey found that 79% of respondents were more likely to select a provider who allows them to conduct healthcare interactions online or on a mobile device (Medical Economics). As a result, healthcare leaders are now seeking to improve the patient experience through tailoring communications strategies to meet the expectations of their digital savvy patients.
Mobile engagement is becoming increasingly critical to the success of every hospital in the digital age. Today it's all about enabling an individualized approach, where patients are empowered to help manage their own care –  Brian Kalis, Accenture
With today's patients being digital natives, new healthcare initiatives should focus on enhancing the patient experience through improving access to care and delivering personalised communications via mobile apps.
Related Leveraging Mobile: The Future of Patient Engagement Strategies
#2 Minimise Risks
At transitions of care, the risk of communications errors is increased, which can lead to poor health outcomes, patient distress or inappropriate patient care (ACSQHC). During the course of a 4-day hospital stay, a patient may interact with 50 different employees, including physicians, nurses, technicians, and others. When healthcare professionals are not communicating effectively, patient safety is at risk for reasons like lack of critical information and misinterpretation. Furthermore, a study by Anderson et al. found that patients only recall 40% of the information they are given – and almost half of what they thought they remembered is incorrect.
According to The Joint Commission, breakdown in communication was the leading root cause of sentinel events reported in the US between 1995 and 2006, and was one of the top 3 factors from 2006 to 2014.
 Communication errors are a major contributing factor in hospital sentinel events, and are the most commonly cited underlying cause of complaints about the Australian healthcare system  – ACSQHC
Communication breakdowns are not only costly for providers but also dangerous for patients. A recent study found poor physician-patient communication contributed to nearly 2,000 deaths and $1.7 billion in malpractice claims over the course of five years. Some of the causes included: incomplete follow-up instructions, inadequate education and poor documentation. These gaps in communication can cause serious breakdowns in the continuity of care and potential harm to the patient.
According to Gallup, effective pre-surgery education not only boosts patient satisfaction but also patient outcomes. More specifically, tailored pre-surgery patient communication is imperative to successful post-procedure outcomes (Gallup). Therefore, implementing systems to facilitate effective communication can substantially improve the quality of service delivery and the patient experience (O'Daniel).
#3 Increase Profits
Offering a superior patient experience not only strengthens engagement but also correlates with 50% higher hospital margins (Accenture). According to Accenture, this correlation exists across all hospital and health service types.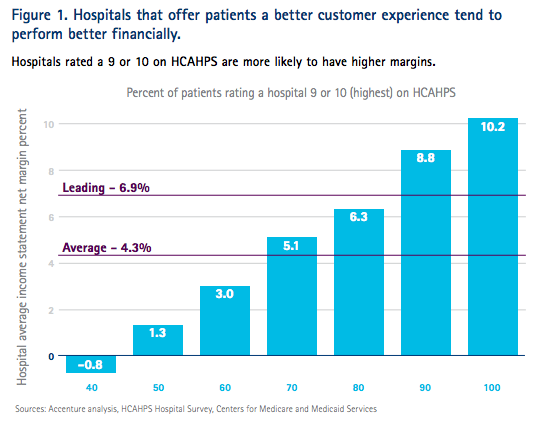 The data suggest that leading hospitals are indeed growing profitability by increasing consumer satisfaction, not cost cutting  – Accenture
Therefore, healthcare organisations can achieve financial success by investing in patient-centric enhancements, effective patient communication strategies, and prioritizing the patient experience.
#4 Achieve Positive ROI
 Hospitals that are the fastest to adopt patient experience and digital health best-practices will be best positioned to improve their reputations, reap the financial rewards and outperform their peers  – Accenture
According to Accenture, 73% of organizations that have adopted patient personalization and engagement strategies have seen positive financial results from the decision so far. Moreover, 78% of healthcare organisations are achieving positive ROI from mobile app investments, according to a survey by Red Hat. Therefore, improving patient communications and engagement through implementing of mobile strategy is key for achieving ROI. 
#5 Better Engagement For Less
Healthcare delivery systems are turning to patient engagement and activation as another tool to help improve patient communications and outcomes. Evidence shows that strong patient engagement programs can improve outcomes while significantly reducing hospital admissions and other costs (Piper Report). Moreover, 68% of health executives say that better patient engagement will reduce overall costs (ASQ).
A study by Hibbard et al. found that low patient activation and engagement is significantly associated with higher healthcare costs. For patients who are not engaged in their own care, the costs for healthcare are approximately 21% higher than patients who are 'highly engaged' (HealthcareIT).
 Patients with the lowest activation scores—having the least skills and confidence to actively engage in their own health care—incurred costs up to 21 percent higher than patients with the highest activation levels  – Piper Report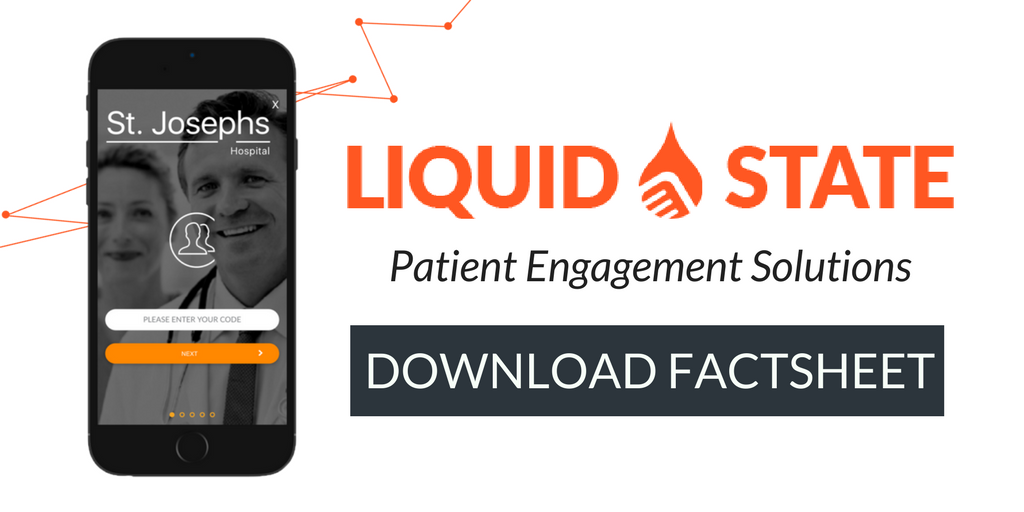 #6 Reduce Readmissions
Better communications between patients, families and health professionals reduce rates of readmission (Deakin University). Gallup suggests that the education patients receive before surgery has significant positive effects on surgery outcomes, increases overall patient satisfaction and improves quality of life. For hospitals, effective patient communications mean reducing costly readmissions and improving satisfaction scores (Gallup).
A study by Veroff et al. found that patients who received enhanced support had 5.3% lower overall medical costs and 12.5% fewer hospital readmissions than patients who received the usual level of support. Patient engagement initiatives not only lead to reductions in hospital visits but also improvements in treatment adherence and quality of life (Medical Economics).
#7 Deliver Best Practice Efficiently
According to the Australian Commission on Safety and Quality in Health Care, effective patient-clinician communication and engagement with patients at transitions of care can:
Positively influence a person's health outcomes

Prevent adverse events during care

Reduce readmission to hospitals following discharge
A perioperative support tool, such as a Patient Engagement Platform, is designed to aid in the continuous quality improvement of perioperative structures, processes and outcomes for patients. This is achieved by facilitating effective patient-centered care and knowledge sharing between providers and patients. By refining patient communications and education, healthcare providers can significantly improve the patient experience and outcomes (Gallup).
 Taking the time to properly and fully educate patients can improve both their physical well-being and all aspects of their life  – Gallup
#8 Reduce Administration Costs
According to a recent study, administration consumes approximately 31% of U.S. health spending (PNHP). Patient engagement platforms reduce costs by integrating and improving workflows and communications, providing a better patient experience. More specifically, leveraging the Liquid State Platform can save healthcare providers up to 63% in communications and administration costs (based on a pilot program with Children's Health Queensland 2017).
Patient Engagement
It's no secret that digital innovation has already begun to disrupt the health industry for the better. The many benefits of new healthcare technology and patient engagement initiatives have been proven to outweigh the costs and challenges associated with implementation. Healthcare leaders now have an opportunity to create connected and personalised patient journeys that can guide and engage patients in their care. A Patient Engagement Platform offers healthcare providers an innovative solution focused on empowering patients to be actively involved in every stage of their health care journey.
Best Practices
Related Why mHealth is Essential for Patient Engagement
Related Improving Patient Engagement in Hospitals
---
At Liquid State we see the social and economic value of improving patient communications and the patient experience, through patient-facing apps and integrated communications solutions. Liquid State's dedicated patient engagement platform provides personalised clinically-aligned communications that can be used as a perioperative support tool. Leveraging this code-free solution is a quick and cost-saving approach that eliminates the need for custom development work.
To find out more about our Patient Engagement Platform, download the factsheet or get in touch with us today.