Why mHealth is Essential for Patient Engagement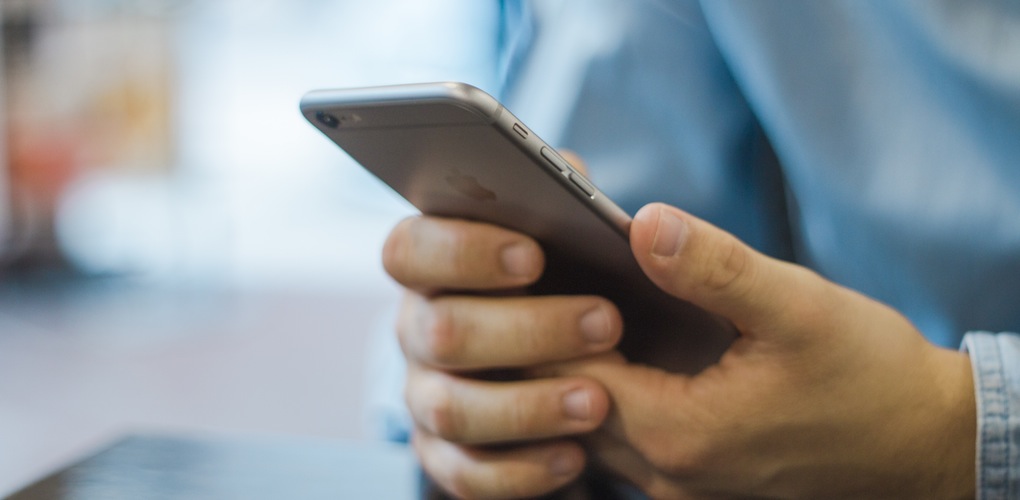 As the healthcare industry continues to digitally transform, providers are focused on adopting new strategies to enhance workflows and boost patient engagement. In particular, mobile health (mHealth) has introduced new and innovative approaches in healthcare that support patient engagement and value-based care models.

What is mHealth?
Today's patients are digital natives, whose mobile device usage continues to alter their consumption of healthcare services and information. The term mHealth refers to the use of mobile phones and other wireless technology in healthcare. These devices are predominantly used to educate patients about preventative healthcare and services.
mHealth enables healthcare support, from primary to follow-up care, to be available to patients anytime, anywhere. mHealth has increased accessibility to healthcare services, providing reach to patients that were once considered unreachable. This technology can be used to encourage patients to monitor their health and communicate with providers, helping patients manage their overall wellness, regardless of their health status.

 Providers recognize the benefits of a more connected, collaborative patient care approach and are adapting it to extend the point of care beyond the four walls of their practice to enable a continuous care experience  – HealthITAnalytics
Why do we need mHealth?
mHealth services are fast becoming as equally important as traditional in-person servicesClick To Tweet According to Accenture, patients are now demanding a combination of both in-person and virtual healthcare services. Research has demonstrated a shift in patients attitudes and their readiness to use mHealth tools to manage their health. Approximately 66% of patients are ready to adopt mHealth and technology into their treatment plan (PatientEngagementHIT). Convenience is the key driving factor and motivator behind this adoption of virtual healthcare services.
73% of healthcare organizations are using some kind of remote app or website to host a patient portal 
– PatientEngagementHIT
78% of patients want better access to mHealth and telehealth tools 
– PatientEngagementHIT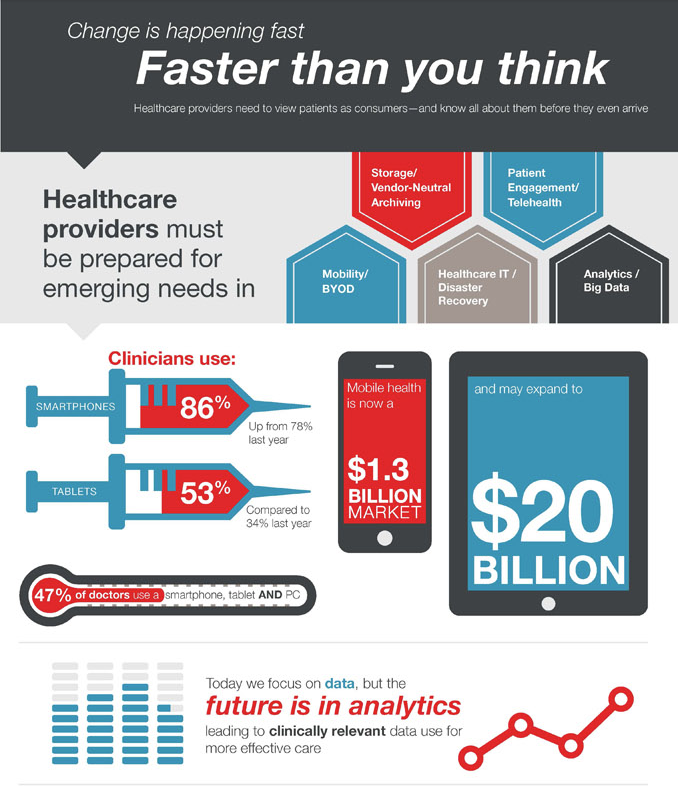 Source: mHealth Spot
The rise of virtual healthcare has introduced mHealth as a tool to enhance patient engagement. Patient engagement is achieved when healthcare providers and patients come together to work towards improved health outcomes. New mHealth initiatives are raising patient engagement and satisfaction levels through matching patient needs and doctors capabilities, improving access to care and services, as well as delivering personalised communications via apps.Removing the barriers to healthcare through mHealth technology is key for improving patient engagementClick To Tweet mHealth apps have proven instrumental to improving patient care and medication adherence, as well as reducing the prevalence of preventable diseases. The information and communication available to patients through mHealth apps is targeted, relevant and provides support during all stages of care. This education and personalisation results in higher patient engagement, improved patient outcomes, and lower readmission rates.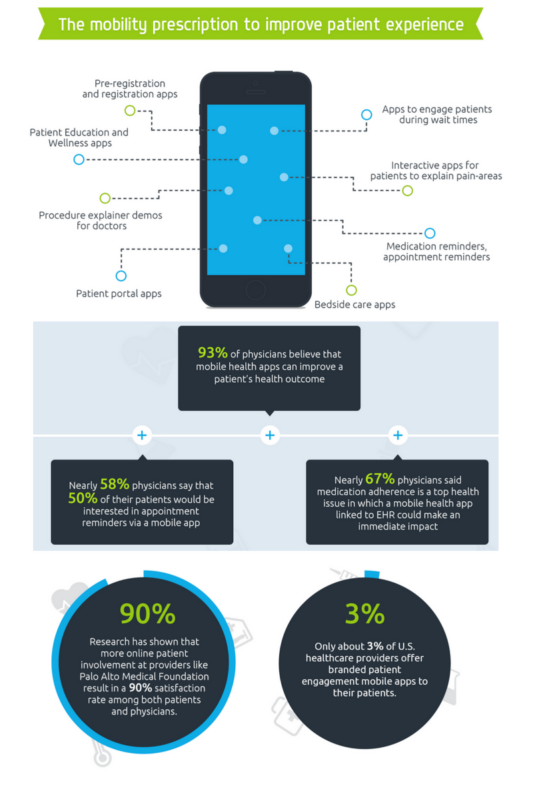 Source: Healthcare Intelligence Network
Related: Improving Patient Engagement in Hospitals
Related: Health Communication Apps Improve Patient Engagement
The future of mHealth

As more and more patients take control of their own healthcare in the age of consumerism, provider organizations must be able to offer meaningful choices for virtual care, in-person care and a combination of both – Frances Dare, Accenture
Digital innovation in healthcare will continue to shift the way care is delivered to patients. As the demand for virtual healthcare services such as mHealth increases, providers need to consider integrating new digital initiatives into their practices to improve patient engagement.Healthcare providers must empower the patient, and mHealth apps can be leveraged to do soClick To Tweet However, in order to effectively improve patient engagement, mHealth tools such as mobile apps need to embrace various qualities. These qualities include educating users, providing reminders or alerts, recording and tracking health information, delivering personalised content and guidance, whilst most importantly enabling support through communication between providers and patients.

 Going forward, it seems as though mHealth apps will only get more advanced, creating more opportunities for patient engagement  – PatientEngagementHIT
---
Liquid State's Patient Engagement Pathway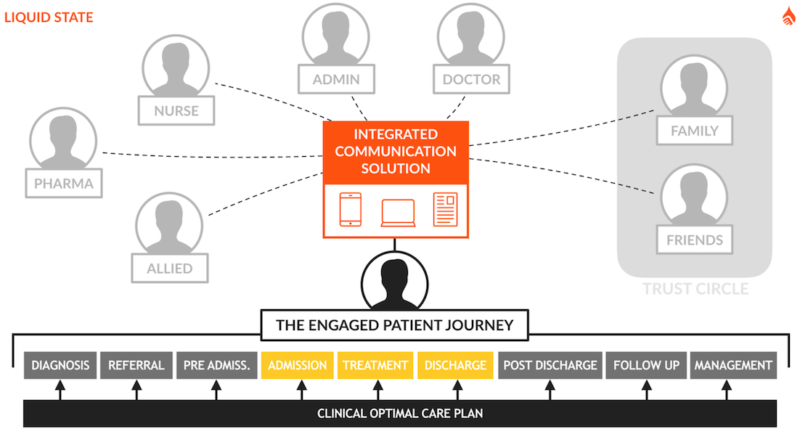 Liquid State's solutions take mHealth apps to the next level, allowing healthcare professionals to deliver personalised, omni-channel, and searchable content directly to their audience's device. An integrated health communications solution built with the Liquid State Platform can transform your business across patient engagement, marketing, internal communications, reporting, and workplace health & safety.
Want to know what the Liquid State Platform can do for your Healthcare organisation? Get in touch with one of our consultants today.