Leveraging Mobile: The Future of Patient Engagement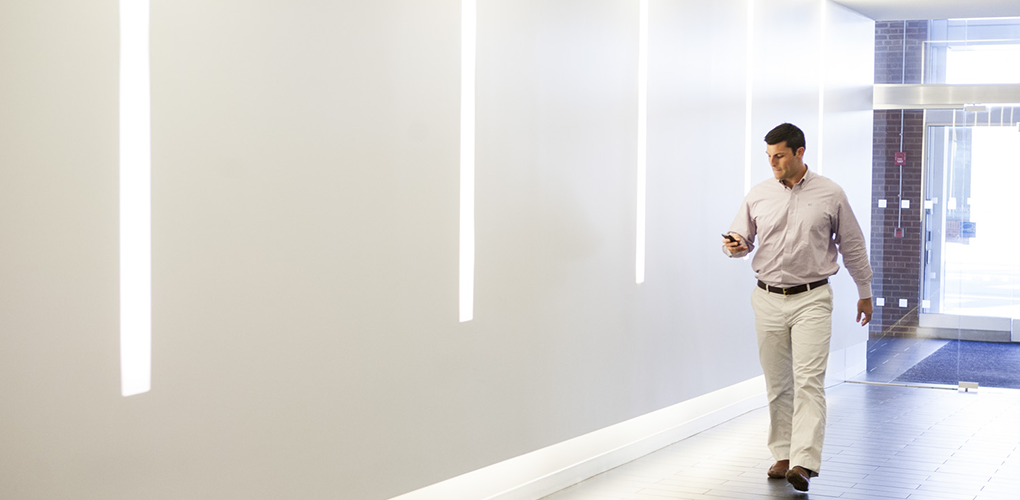 Mobile is becoming ubiquitous in the Healthcare industry, playing a significant role as the industry continues to adopt a patient-centred approach. Healthcare leaders are now seeking to improve the patient experience through tailoring patient engagement strategies to meet the expectations of their digital savvy patients. 
 The time has come for healthcare systems, payors, and providers to go "all in" on their digital strategies – McKinsey
A 2016 report by Vocera found that patient experience and satisfaction are the top-ranked priority for healthcare organisations. As shown below, a survey by Accenture revealed that 82% of healthcare providers consider patient experience, engagement and satisfaction to be important.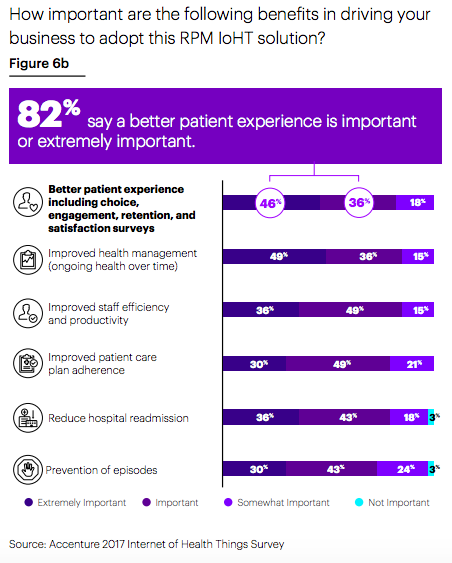 An earlier study by Accenture also found that hospitals that offer an improved patient experience have up to 50% higher margins than competitors.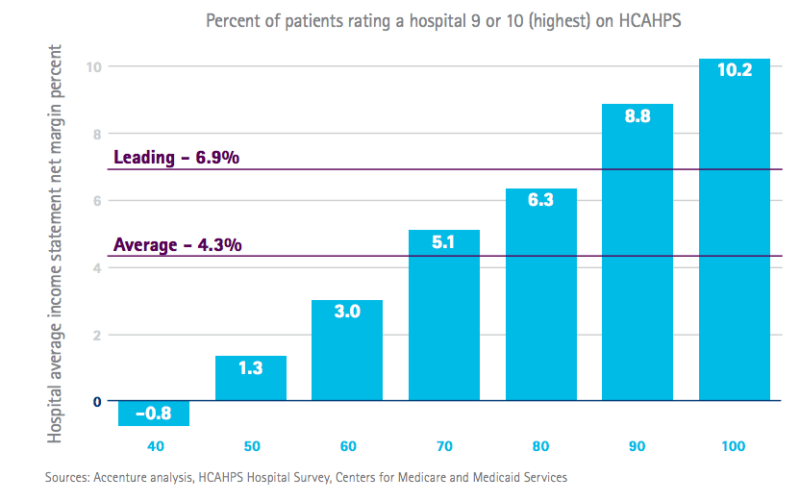 Clear communication of healthcare information is imperative to a positive patient experience ( PatientEngagementHIT). Moreover, empowering patients with a sense of personal control over their own healthcare can improve patient outcomes and satisfaction. Therefore, Healthcare providers can significantly improve the patient experience through implementing patient engagement strategies that personalise communication and support education.
Increasing patient engagement helps develop a patient's knowledge, skills and confidence in managing their health. As a result, engaged patients are more likely to adhere to care management. According to Hibbard (2013), investing in patient engagement strategies can improve the effectiveness and efficiency of care, which pays off in better health outcomes, better patient experiences, and lower costs. More specifically, engaging patients in care can result in fewer readmissions, healthier lifestyles and better patient outcomes – all of which are cost-saving factors ( Hibbard, 2014). 
So Why Mobile?
Having the right technology is the key to successful patient engagement. As smartphone usage continues to grow exponentially, so has the demand for mobile healthcare access. With today's patients being digital natives, new healthcare initiatives should focus on enhancing the patient experience through improving access to care and delivering personalised communications via apps.
Mobile health, healthcare supported by mobile devices, is the future of digital services in the industry. According to McKinsey, patients are wanting simple and user-friendly tools from their healthcare providers. Mobile apps provide a great tool for engaging and educating patients about their unique patient journey. Leveraging mobile empowers patients to take a proactive approach to their healthcare.
Some quick stats…
The mHealth market is expected to reach $26 billion in revenues by 2017 (Research2Guidance)
In 2012, the number of global mHealth application users was estimated to reach 247 million (Research2Guidance)
In 2014 alone, the use of healthcare apps increased by 89% (Flurry Analytics)
93% of physicians believe mHealth apps have the potential to improve patient outcomes and the patient experience

(QuintilesIMS)

89% of physicians are likely to recommend a mHealth app to patients

(QuintilesIMS)

62% of smartphone users have used their phone to get information about a health condition (McKinsey)
38% of smartphone users deem their mobile devices "essential" for finding health and medical information (HealthcareIT)
75% of respondents would like to use digital healthcare services, as long as those services meet their needs (McKinsey)
It is estimated that mHealth technologies can save more than US$23 billion by targeting patients with chronic diseases (Accenture)
Related Why mHealth is Essential for Patient Engagement
 Mobile engagement is becoming increasingly critical to the success of every hospital in the digital age. Today it's all about enabling an individualized approach, where patients are empowered to help manage their own care. Large hospitals that design and build experiences as well as partner with digital disruptors will have the ability to better engage with their patients, which will enhance patient loyalty – thereby enabling the hospitals to protect their revenues  – Brian Kalis, Accenture
Leveraging mobile in healthcare can noticeably reduce costs, improve patient outcomes and offer added value to patients. A mobile app from the patient's most trusted source – their healthcare provider, is an effective tool for improving patient engagement and education, as well as boosting the patient experience. Mobile apps are essential for delivering targeted, personalised and relevant information to patients during each stage of their patient journey; providing patients with convenient access to information when they need it most. Healthcare leaders, therefore, have an opportunity to create connected and personalised patient journeys that can guide and engage patients through their care.
 Policies and interventions aimed at strengthening patients' role in managing their health care can contribute to improved outcomes… Engaging patients in their own care is a cornerstone of a successful health system  – Hibbard, 2013
Inpatient experience and mobile engagement are both significant components of a holistic patient experience. Therefore, in order to stay industry leaders, healthcare providers need to meet patient expectations by implementing mobile patient engagement strategies.
Related 4 Best Practices for Developing mHealth Apps
A Patient Engagement Solution
A Patient Engagement Platform offers Healthcare providers an innovative solution focused on empowering patients to be actively involved in every stage of their health care journey. Leveraging a code-free patient engagement platform is a quick and cost-saving approach that eliminates the need for custom development work. 
Liquid State's dedicated Patient Engagement Platform provides clinically-aligned communications solutions for health industry clients. It combines all patient communications into a single place where it can be easily managed, delivered and tracked. The Platform offers an integrated workflow from content creation, to app development, user management, engagement measurement and segmented content distribution coupled with simplified integration with existing systems. With the platform, healthcare organisations can create and deliver omnichannel content via cross-platform apps, web, patient entertainment systems, digital signage and print.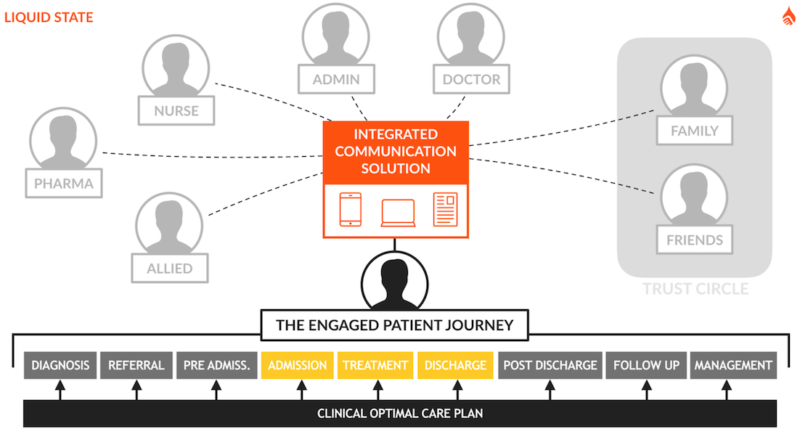 Early adopters of the system have seen communications costs savings of up to 60% as disparate communications streams are aggregated into a single cohesive flow that is optimised and delivered to patient's phones, tables, and bedside televisions  – Philip Andrews, CEO, Liquid State
It's no secret that digital innovation has already begun to disrupt the health industry for the better. At Liquid State we see the social and economic value of improving patient engagement strategies, and the patient experience, through patient-facing apps and integrated communications solutions. To find out more about our Patient Engagement Platform, get in touch with us today.