Why Healthcare Needs Digital Health Apps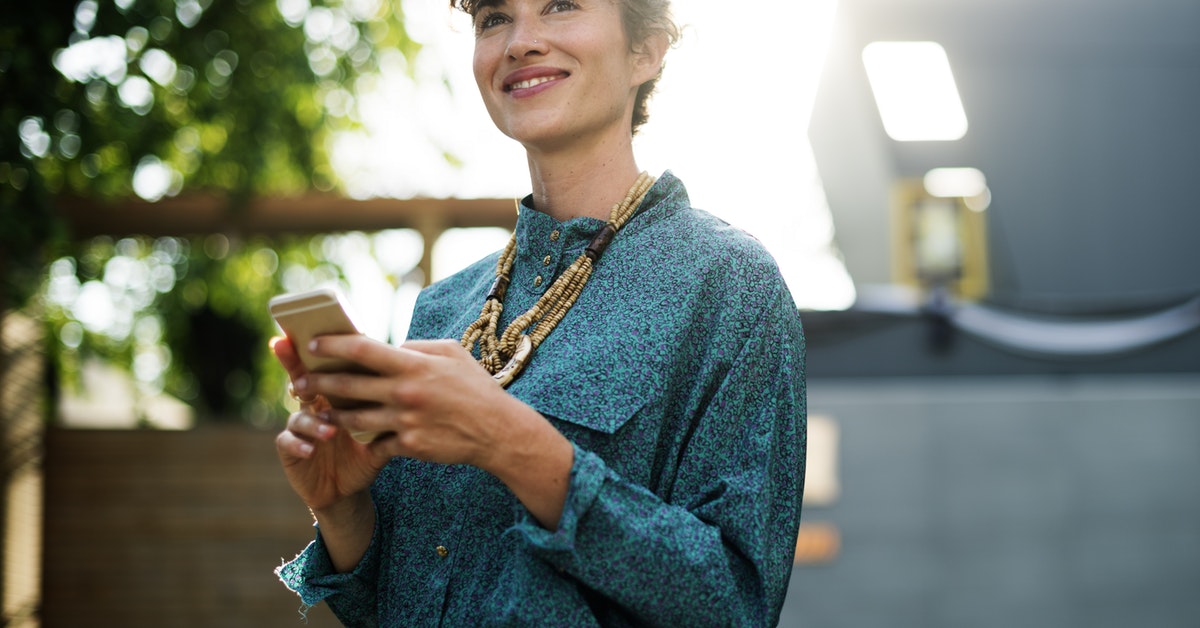 Digital health is introducing new approaches to the management of health conditions. Research has demonstrated significant growth in the impact that digital health is having on patients and healthcare overall. The adoption of digital health tools, such as mobile health apps, holds great promise with evidence of these tools playing a positive role in both patient outcomes and the costs of care.
Digital health refers to the use of connected mobile devices, such as mobile phones and tablets, to improve health. Thanks to the research published in the new report from the IQVIA Institute – The Growing Value of Digital Health, there is increasing evidence of the value of these digital health tools.
We're seeing more innovation. Importantly we're seeing more evidence of the impact that digital health can have on outcomes as well as cost. We're seeing an increase in adoption of mobile health apps – Aitken, IQVIA
The number of digital health apps has increased substantially. There are now over 318,000 health apps available on the top app stores worldwide, nearly double the number of apps available in 2015 – with more than 200 apps being added each day (IQVIA).
A Case for Success
The efforts to adopt digital health tools into clinical practice has progressed significantly. Clinical evidence for app efficacy in the health space, in terms of improving patient outcomes and cost savings, has grown substantially. Not to mention, health apps have also shown clinical benefits across a broad array of conditions.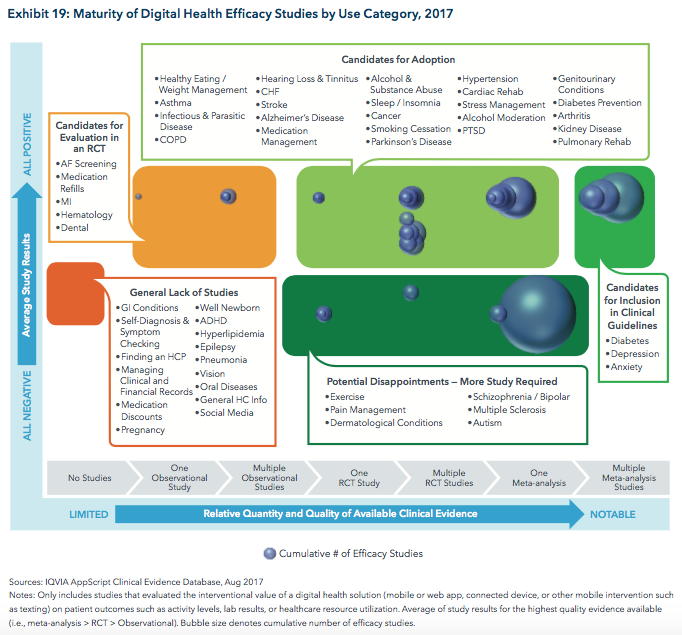 Digital health apps have proven reductions in acute care utilisation across 5 patient populations: diabetes prevention, diabetes care, asthma, cardiac rehabilitation and pulmonary rehabilitation. According to IQVIA, the use of digital health apps in just these 5 patient populations could save the U.S. healthcare system an estimated $7 billion per year.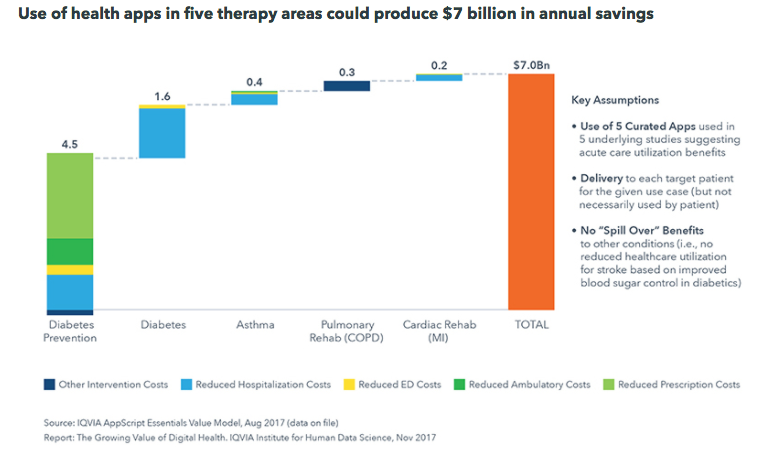 This represents 1.4% of total costs in these 5 patient populations. Most of the cost savings are driven by the reduction of hospital admissions and emergency department visits. IQVIA has estimated that if this level of savings could be extrapolated across total national health expenditure, annual cost savings of $46 billion could be achieved.
Related Top 8 Reasons to Improve Patient Communications
Empowering Patients
More than half of health consumers would like to use their smartphones more to interact with healthcare providers (Accenture). A mobile presence can help healthcare providers succeed in an era where patients are empowered to help manage their own care. Patient experience and mobile engagement are considered part of a holistic strategy that can improve customer satisfaction and retention. Accenture research showed that delivering a better patient experience can lead to better financial performance.
In the increasingly competitive healthcare market, providers that ignore the mobility needs of today's always-on patients could lose them to competitors – Accenture
Healthcare providers that do not meet the needs of their consumers, and their growing desire for mobile patient engagement, run the risk of losing customers and revenue. One option is to partner with a digital health software provider to create a mobile platform that is tailored specifically to your patients.
Related Leveraging Mobile: The Future of Patient Engagement Strategies
Related Digitising Healthcare: The Patient-Driven Journey
The Health App
The innovation of digital health apps is accelerating at a fast rate, with at least one high-quality mobile app available for each stage of the patient journey. With the adoption of mobile in the healthcare industry growing, the opportunity for health apps is immense.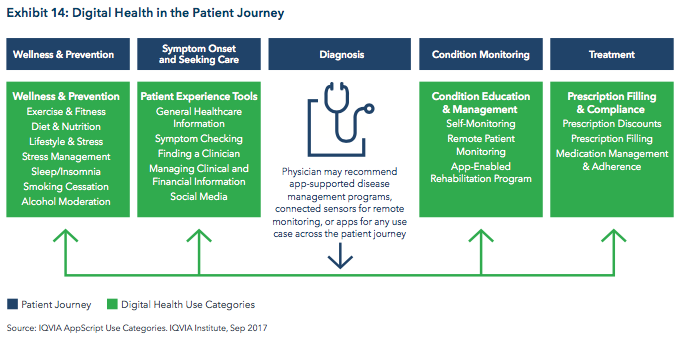 Health apps can be divided into 2 main categories: those focused on wellness management – facilitating tracking and modification of lifestyle behaviours, and those focused on health condition management – providing information on conditions and enabling access to care. The majority of mobile health apps are general wellness related. However, the number of condition management apps are increasing rapidly, now representing 40% of all health-related apps (IQVIA). Types of health apps can include:
Symptom Checkers

Healthcare Professional Finders

Managing Clinical and Financial Records

Condition Education and Management

Self-Monitoring

Remote Patient Monitoring

Rehabilitation Programs

Prescription Filling and Compliance (Adherence)
For more information on the large variety of health apps, check out this blog post.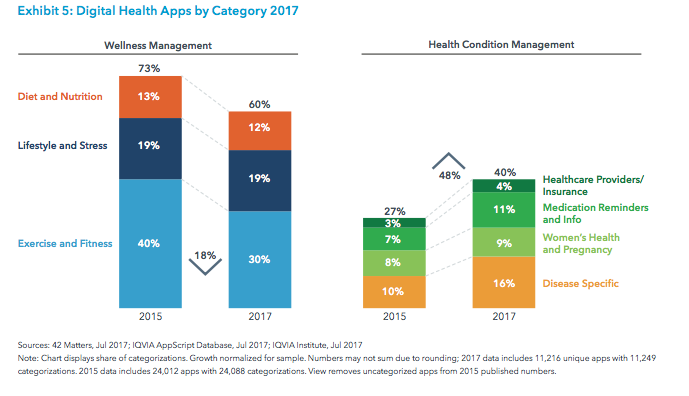 The goal of health apps is to make the experience of healthcare more efficient and satisfying for all stakeholders involved. Health apps are ultimately judged by their value to the healthcare system; their ability to improve the patient experience and patient outcomes as well as reduce the costs of care. Physicians often see the value of health apps in terms of patient engagement, promoting more efficient provider-patient communication, and creating new modalities for diagnosis and monitoring.
The quality of health apps is gradually improving, with more functionality and better user experience. It is important to note that app stores have begun removing low-quality apps, including outdated and abandoned apps, as well as those that no longer meet current guidelines or don't function as intended. Some characteristics of the current top-rated health apps include:
The apps are available on both the App Store and Google Play

The apps are not publically available to patients – instead required a healthcare organisation to contract a software developer for app development.

The apps satisfy at least 1 of 3 digital health capabilities that consumers want the most:

digital access to medical records, appointment management, and/or prescription refills

(

Accenture

).
Related Modernising Healthcare, One App at a Time
---
Healthcare providers need to create unique mobile user experiences to close the gap between what is being delivered and consumers evolving expectations.
 As digital patient engagement becomes the norm and consumers grow discontent with their providers' lack of mobile services, they could decide to flee to competitors  – Accenture
If your healthcare organisation is not thinking about app development, you might already be behind. Finding the right company to manage your health app development can not only increase the efficiency of your organisation but also improve your patients' overall health.
At Liquid State we see the social and economic value in improving the patient experience through patient-facing apps and integrated communications solutions. Our solutions help drive clinical efficiency, quality care, patient satisfaction and improved clinical outcomes.
To find out what Liquid State can do for your Healthcare Organisation get in touch with us today.