Engaging the Healthcare Consumer: The Key to Success in 2019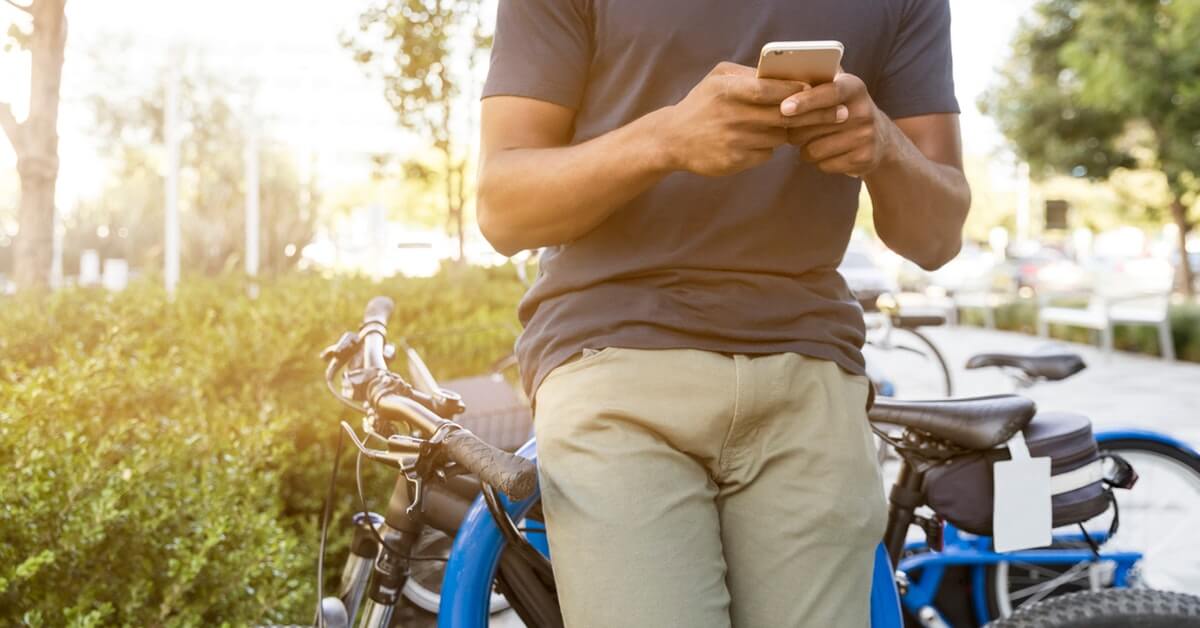 Alongside the shift from volume to value-based care comes a new generation of healthcare consumers who proactively engage in their own health. As we transition to 2019, it is crucial that healthcare organisations take into account the needs of these consumers when developing new care models. This, combined with innovative digital health solutions, will lead to future success in the industry.

Over recent years, patients have significantly increased their involvement in care, driving engaged and empowered patients to behave increasingly as consumers of healthcare. The patient vs. consumer conversation is fairly new, with many still adjusting to the idea of patients as consumers. All patients are healthcare consumers, however, healthcare consumers are not all necessarily patients. More specifically, a healthcare consumer is either engaged in preventive or wellness solutions, making decisions about future potential care, or is currently a patient.
So who are we, patients or consumers? The reality is that on occasion we are one or the other, but most of the time, we are both – Robert Pearl, Forbes
Consumer expectations in healthcare are being shaped by the personalised and convenient experiences they have grown accustomed to in other industries. However, there is a significant disconnect between these expectations and the current healthcare experience.
 The debate over consumer versus patient is important and valuable because it will drive physicians and hospitals to embrace both personalised care and technology  – Robert Pearl, Forbes
The Healthcare Consumer
The healthcare consumer landscape is changing. Consumers want to be known and understood in order to get a personalised healthcare experience. Therefore, understanding consumer attitudes and preferences across the healthcare journey is key for not only improving the experience but also for supporting healthy behaviours, achieving better outcomes, and remaining competitive.
According to Deloitte's 2018 Health Care Consumer survey, many consumers still find it difficult to navigate the healthcare system. Healthcare consumers want to easily access the information they need to successfully navigate the system and make informed decisions about their care. As such, there is demand for an environment in which health information can flow seamlessly among healthcare professionals, caregivers, and the patient.
The McKinsey 2017 Consumer Health Insights survey also found that, unsurprisingly, consumers are wanting more from the healthcare industry – with interest in greater digital engagement continuing to rise.
The Rise of Digital Natives
Mobile is revolutionising healthcare. A growing proportion of healthcare consumers are digital natives who increasingly expect digital services across industries. As digital consumption continues to increase in everyday life, more and more consumers are embracing the convenience of digital technology to provide healthcare on demand.
 As more and more patients take control of their own healthcare in the age of consumerism, provider organizations must be able to offer meaningful choices for virtual care, in-person care and a combination of both  – Frances Dare, Accenture
While other industries have been redefined through the use of mobile technology, healthcare continues to lag behind. Research has shown that the use of digital tools will be vital to the future of healthcare consumerism. In fact, according to a 2015 survey, 58% of mobile users have already downloaded at least one mobile health app – 41% have downloaded more than five.
Related The Rise of mHealth Apps: A Market Snapshot
Digital in Health
There is a growing demand for more engaging digital experiences in healthcare. In fact, an Ernst & Young survey found that both patients and physicians are ready for increased digital engagement.
New mobile experiences are evolving patient expectations and the notion of care anytime, anywhere. Healthcare consumers want to be able to access care when, where, and how it suits them best – a trend that shows no signs of slowing down. This has brought with it the expectation of digital tools to be a core part of healthcare delivery.
According to McKinsey, around 70% of consumers prefer digital solutions to phone or in-person for many healthcare interactions. In fact, 79% of consumers are more likely to select a provider who allows them to conduct healthcare interactions online or on a mobile device. However, at present, the use of digital tools is significantly lower in healthcare than in many other industries.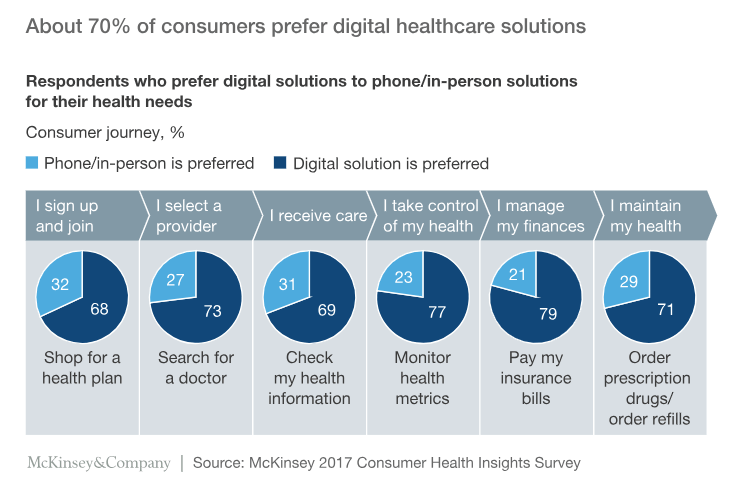 Interestingly, Deloitte found that consumers who consider themselves to be in "excellent", "very good" or "poor" health are more interested in using health apps or digital tools compared to other consumers. However, according to McKinsey, digital health use is often correlated strongly with consumer awareness. Therefore, as awareness of digital health tools increases, adoption is likely to rise.
New digital tools will play an important role in the future of healthcare, with the potential to increase consumer engagement and satisfaction, deliver better outcomes and provide access to more convenient care. 
Related Why Healthcare Needs Digital Health Apps
Patient Generated Health Data
Advances in digital health technology have created new opportunities for providers, patients, and consumers to interact and share information. The data generated from wearables can not only help improve health outcomes, but also help improve population health and clinical research.
According to Deloitte, 60% of consumers say they are willing to share personal health data with their doctor to improve their care. More so, consumers with a chronic condition are more willing to share their data with their personal doctor in order to improve their care. This sharing of data allows providers to be more proactive in a consumers health management.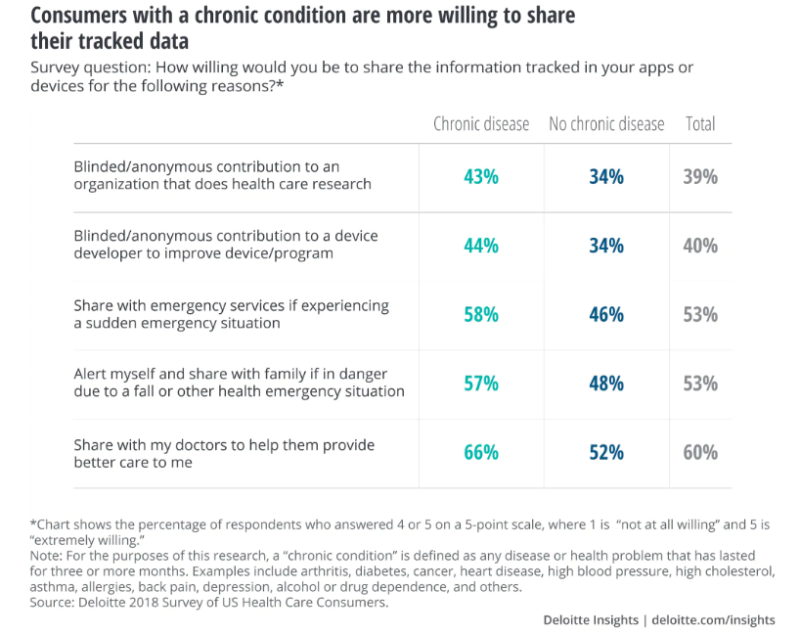 A Strategy for Success
A consumer's willingness to use less traditional healthcare is creating opportunities for innovators and disruptors in the industry. As a result, healthcare leaders are developing strategies to better meet the demands of the engaged consumer. By learning from other industries, healthcare organisations can be better positioned to design digital tools that consumers will want and use.
 Today's consumers expect better digital engagement  – McKinsey
Healthcare providers have multiple opportunities to engage healthcare consumers to help them manage their health. The modern consumer favours inexpensive, easy-to-use digital health tools that fit seamlessly into their daily routine.
 Engaging the consumer can hold profound potential benefits for healthcare  – Deloitte
As organisations continue to evolve their strategies, it is important to consider:
Offering flexible tools that meet the changing needs of consumers as they transition through life stages, disease states, their patient journey etc.

Creating a seamless experience through connected and integrated tools that are easily accessed by the patient, caregiver, and care team.
Choosing a solution that is flexible and easy to integrate with pre-existing systems is key. It is also important to implement fit-for-purpose technology that is easy to use, convenient, reliable, scalable and cost-effective. This, paired with a robust clinical mobility strategy, is essential for achieving real success. Keep in mind, action also needs to be taken to increase awareness and better inform consumers about the current digital health tools that are available.
Related How to Boost Patient Engagement with Mobile Technology
Related Modernising Healthcare, One App at a Time
---
 Healthcare consumerism has changed in ways unimaginable, and it will continue to change  – McKinsey
The increase in healthcare consumerism has led to the growing demand to engage consumers in care. Offering digital health services is now considered a competitive advantage, with consumer expectations continuing to drive choice, accessibility, quality, and the adoption of new digitally-enabled models of care. With the plethora of new technologies, the opportunities for using digital in healthcare are immense.
Digital health solutions can help drive consumer engagement, clinical efficiency, quality care, patient satisfaction and improved clinical outcomes. To find out what Liquid State can do for your healthcare organisation, get in touch with us today.