How to Boost Patient Engagement with Mobile Technology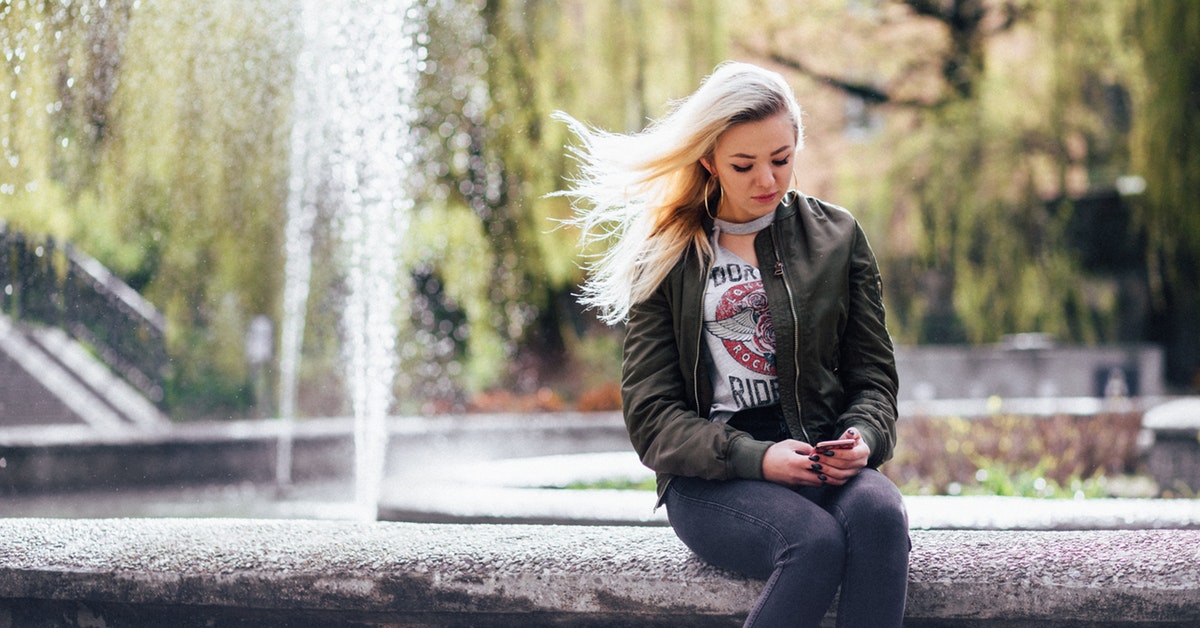 With smartphone usage continuing to increase, and the consumer expectation for instant access to services growing, mobile patient engagement technology is on the rise. Mobile technology can be used to engage, educate and empower patients through their unique healthcare journey by activating the role patients play in their own health.
Healthcare providers are now focused on adopting new strategies to enhance workflows and boost patient engagement. Patient engagement is achieved when healthcare providers and patients come together to work towards improved health outcomes. Mobile health (mHealth) has introduced new and innovative approaches in healthcare that support both patient engagement and value-based care models.
The HIMSS survey suggests that healthcare organisations are widely beginning to use mobile technologies with the aim of engaging patients, in order to leverage and optimise the wide range of capabilities that mobile technologies and platforms have to offer. As a result, both patients and healthcare providers are opting to use mobile technologies to connect with one another.
Related The State of Patient Engagement: 4 Trends to Watch in 2018
Mobile + Patient Engagement
Patient engagement is ultimately about patient empowerment; a concept that will become even more vital as the healthcare industry continues to shift to value-based care. Patient engagement focuses on improving health outcomes through informed decision making and behaviours by both the patients and healthcare providers; encouraging people to get actively involved in their health. 
New mobile experiences are evolving patient expectations and the notion of care anytime, anywhere. Since most mobile technology is consumer-facing, mHealth is now seen as an important aspect for boosting patient engagement. The current methods that are used to communicate with patients are highly variable and often antiquated. mHealth technology is opening up new lines of communication which, in turn, is removing the barriers to healthcare, improving outcomes, streamlining care processes, and enhancing the patient experience.
Approximately 79% of consumers are more likely to select a provider who allows them to conduct healthcare interactions online or on a mobile device . According to Accenture, 54% of patients want to use their smartphones to communicate with healthcare providers. Furthermore, 66% of patients are ready to adopt mHealth and technology into their treatment plan (PatientEngagementHIT) – with convenience being the major motivator. Unsurprisingly, investing in patient engagement solutions is now considered a top priority for 72% of healthcare providers (Change Healthcare).
New mHealth initiatives are raising patient engagement and satisfaction levels through matching patient needs and doctors capabilities, improving access to care and services, as well as delivering personalised communications via apps. mHealth also presents a promising mechanism for improving prevention, treatment, and follow-up, helping providers reach their patients between visits and to drive robust patient engagement. From wearables and patient portals to smartphone apps and home monitoring equipment, mHealth technology already permeates everyday lives.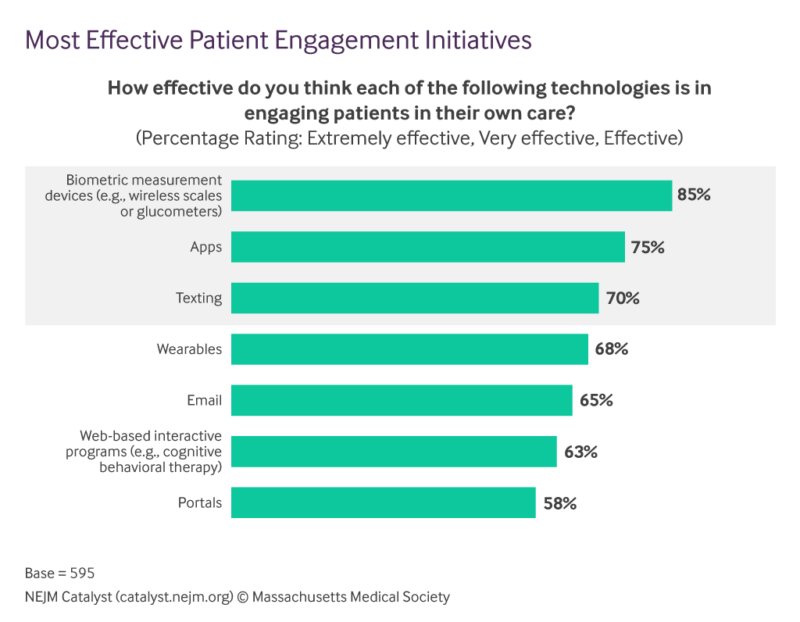 Patient experience and mobile engagement are considered part of a holistic strategy that can improve customer satisfaction and loyalty. More specifically, engaging patients in their care can result in fewer readmissions, healthier lifestyles and better patient outcomes – all of which are cost-saving factors (Hibbard). According to Gordon et al., the use of mobile technology in the physician-patient relationship not only improves satisfaction but also improves access to care, care quality, and productivity. 
It can be done simply, with minimal cost, and can have far-reaching effects in streamlining patient care, improving patient satisfaction with that care, and improving medical and surgical outcomes  – Gordon et al.
Unsurprisingly, mobile technology is at the core of many current and successful patient engagement strategies. This has created a mandate for more interactive, demand-responsive mHealth tools that empower consumers to actively manage their own health. In fact, patients are embracing new technology to enable them to communicate with providers, display test results and health summaries, list medications, facilitate prescription refills, schedule appointments and to record their own patient-generated health data. Using these new forms of interactive health services can facilitate greater connectedness between patients and their care team, strengthening patient engagement.
Related Leveraging Mobile: The Future of Patient Engagement Strategies
Patient-facing Apps
Patient-facing health apps for smartphones and tablets can help patients, regardless of health status, manage their overall wellness. The growth of mHealth apps has allowed patients to monitor and access care in a way that is convenient for them. Patient engagement apps can include anything from educational medical content (from prevention to treatment), appointment booking, medication management, and health tracking to customised patient portals and general wellness. Patient-facing apps provide the opportunity to track and engage patients between visits and facilitate the sharing of patient-generated health data. This not only helps to improve patient outcomes by delivering tailored care that is personalised but also encourages better patient engagement.
There has been a major shift in the attitudes and readiness of patients to use mobile technology to manage their health. In fact, in 2012, the number of global mHealth app users was estimated to reach 247 million (Research2Guidance). More importantly, in 2014 alone, the use of healthcare apps increased by 89% (Flurry Analytics). According to Ketchum, patients are showing a strong interest in mHealth tools to keep track of their health and communicate with providers, with 47% using mHealth apps to track their health – 87% of which use these apps at least weekly. 
Mobile apps can empower patients to be actively involved, and engaged in every stage of their health care journey. This in turn significantly improves the patient experience, encouraging consumers to be in control of their own health. However, the CommonWealth Fund found that not all mHealth apps are created equal. For example, some apps are good for recording and tracking health data but not necessarily for providing feedback or educational information. In the NEJM Catalyst survey, apps were found to be 75% effective for engaging patients in their own care. For this reason, it is important that any patient-facing app not only starts the patient engagement process but is also able to sustain it. 
Related Why mHealth is Essential for Patient Engagement
Related Modernising Healthcare, One App at a Time
Remote Patient Monitoring
We are now seeing a growing trend in remote patient monitoring as apps and wearables have become more readily available. Remote patient monitoring is the use of digital technologies to collect health data from patients that are off-site (for example receiving care at home) and sending this information to the healthcare provider for assessment. These tools are primarily used for chronic disease management, or for improving follow-up care and patient satisfaction through engagement. Patient access to health data can be accomplished via mobile technology, patient health portals, and personal health records – providing patients with the opportunity to aggregate their health data.
According to Rock Health, 80% of patients would share their health data with their care provider to receive better care. The data from consumer health technologies, including in-home medical devices, wearables, and mHealth apps, are powering personalised approaches to healthcare. For example, apps and wearables can provide real-time results to healthcare providers anywhere, offering the potential for detection and intervention for vulnerable patients. Based on these insights, remote patient monitoring empowers healthcare providers to make more informed decisions, personalise their treatment approach, and improve patient outcomes all whilst increasing patient engagement.
In-home monitoring tools are keeping patients connected. Extending care beyond the hospital provides patients with ongoing support and education which is key to decreasing costs, readmissions, and improving patient outcomes. As care continues to move off-site, providers have the opportunity to leverage patient-generated data to derive actionable insights and communicate with their patients in meaningful and engaging ways.
Telehealth
Telehealth and telemedicine allow patients and providers to conduct appointments using mobile technology such as video conferencing – removing the barriers to healthcare access. The major driving force behind telehealth is convenience – making it simpler for patients to engage with providers remotely. The convenience that telehealth offers not only increases patient satisfaction but also engagement by ensuring patients can get the healthcare they need when they need it.
According to Accenture, 78% of patients want better access to mHealth and telehealth tools. Telehealth services with video capability have now become viable through mobile apps. The implementation of telehealth and telemedicine through apps is a cost-effective solution for the delivery of healthcare to patients with limited access. For example, resource-limited or remotely located patients can benefit from access to specialist care through this technology. This technology also benefits patients that require frequent follow-up care or monitoring, such as rehabilitation or post-operative care.
As long as providers continue to offer quality care via telehealth platforms, it is considered an effective way to improve patient access to care and the patient experience whilst boosting patient engagement.
The Bottom Line
 As more and more patients take control of their own healthcare in the age of consumerism, provider organizations must be able to offer meaningful choices for virtual care, in-person care and a combination of both  – Frances Dare, Accenture
The demand for patient engagement and the push for interoperability are forcing healthcare organisations to find effective tools and strategies. Ultimately, the real benefit of mHealth technology lies in the opportunity for increasing patient engagement and delivering high-quality care. mHealth platforms enable healthcare stakeholders to build agile personalised patient engagement programs to significantly improve the effectiveness of care and health outcomes. Not only this, mHealth apps are proving to be a sure winner in patient satisfaction which can influence bottom-line results for providers. 
Technology-based patient engagement strategies are becoming increasingly available. Using technology including video conferencing, web-based tools, texting, apps, wearables, and patient portals for patient engagement is instrumental in facilitating patient-centered care. Leveraging text messages and digital portals is also another way to engage patients in a way that's both convenient and familiar. For healthcare providers looking to better engage patients on their mobile devices, Accenture suggests taking a collaborative approach by partnering with a third-party development company.
In spite of the growing trend, most healthcare providers have not yet fully embraced mobile patient engagement technology. The patient engagement landscape is evolving, and as technology and care models advance, providers will need to adapt to stay current and drive success. For these tools to be widely adopted, they have to be designed with patients in mind. It is important to promote tools and strategies that reflect patient values and preferences and enable them to actively engage in directing and self-managing their care. By effectively engaging patients across the continuum of care, providers can empower patients and earn the trust needed to become the provider of choice.
---
The many benefits of mHealth technology and patient engagement initiatives have been proven to far outweigh the costs and challenges associated with implementation. These solutions help drive clinical efficiency, quality care, patient satisfaction and improved clinical outcomes.
At Liquid State, we see the social and economic value in improving the patient experience through patient-facing apps and integrated communications solutions. To find out what Liquid State can do for your healthcare organisation, get in touch with us today.