4 Digital Health App Trends to Consider for 2018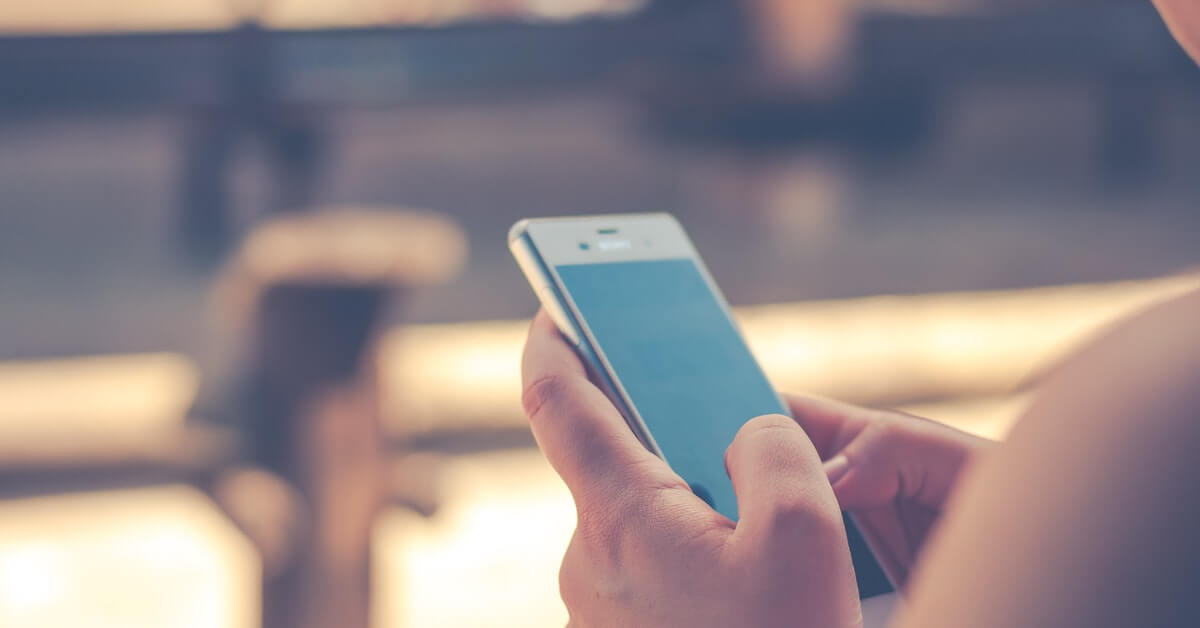 As the world gradually becomes digitised, digital health trends reveal that more and more patients are turning to their smartphones for health advice, or to track and manage their health. The innovation of the digital health app is accelerating fast and with the adoption of mobile in the healthcare industry growing, the opportunity for apps is immense.
Advances in mobile technologies are transforming the healthcare industry by addressing patient needs and encouraging proactive patient engagement to better manage health conditions. Not only this, the innovations in mobile healthcare technology offer significant opportunities to improve access to care, reduce costs, and improve clinical outcomes. Here are 4 digital health trends to keep in mind for 2018. 
Related Why Healthcare Needs Digital Health Apps
#1 Mobile = Healthcare
Mobile has become the default technology for patient engagement. Continued efforts to improve the review and regulations of mobile apps will drive mobile's role in health in 2018. In fact, in 2017, mobile was positioned as a central technology in diabetes prevention, mental health and adherence (HIT).
We're seeing an increase in adoption of mobile health apps   –  IQVIA
Research has demonstrated significant growth in the impact that digital health is having on patients and healthcare overall. The adoption of digital health tools, such as mobile health apps, holds great promise with evidence of these tools playing a positive role in both patient outcomes and the costs of care.
It was predicted that by the end of 2017, more than 50% of smartphone users would have downloaded a health app (GreatCall). The number of digital health apps available in the market has increased substantially. There are now over 318,000 health apps available on the top app stores worldwide, nearly double the number of apps available in 2015 – with more than 200 apps being added each day (IQVIA). As such, the efforts to adopt digital health tools into clinical practice has progressed significantly.
A new report from IQVIA has found increasing evidence of the value of digital health apps. Healthcare providers that do not strive to meet the mobile needs of their consumers in 2018 run the risk of losing customers and revenue.
Related Modernising Healthcare, One App at a Time
#2 Patient-Generated Data
More and more patients want to view and learn from their own health data. The rise of digital technologies innovations has transformed patient-generated data into a high-value resource. Data from consumer health technologies, including in-home medical devices, wearables, and mHealth apps, are powering personalised approaches to healthcare and patient engagement.
Patient-generated data is already playing an increasingly important role in remote patient monitoring. This trend will continue to accelerate in 2018, with particular focus in the areas of cancer, diabetes, depression and stroke (HIT). As care continues to move outside the hospital, providers will increasingly leverage data to derive actionable insights and communicate with patients in meaningful ways. Not only this, patient-generated data provides the opportunity to inform better decisions and tailor care specifically to the patient's unique needs.  
Related Leveraging Mobile: The Future of Patient Engagement Strategies
#3 The App Market
Chronic conditions and diseases have been the focus of key mobile health app market players. More specifically, health apps can play an invaluable role in assisting people who suffer from chronic diseases through helping them to more effectively manage their conditions. Currently, health apps trying to bring significant advances in the management and treatment of chronic diseases such as diabetes, obesity and heart disease.
According to the mHealth Economic 2017 study, the top 3 fields with the best market potential for digital health solutions are diabetes, followed by obesity and depression. Although these therapy fields have a large market potential, the market penetration is generally low.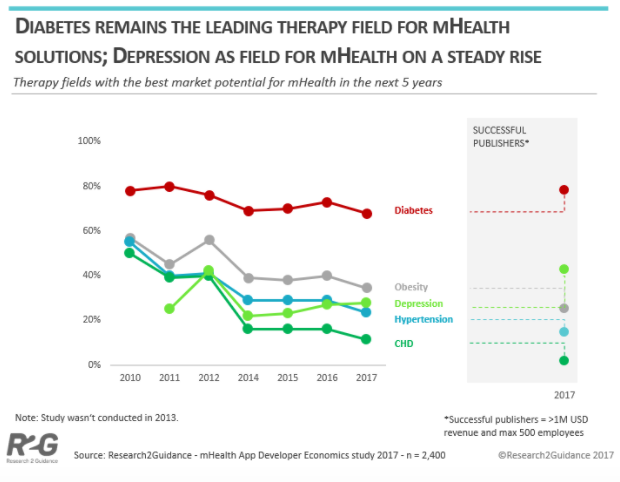 As shown in the graph, diabetes remains the leading therapy field for mobile health solutions in 2017, with depression continuing to gain traction. Hypertension and chronic heart diseases follow the top 3 therapy fields with a strong future business proposition for mobile health. Not to mention, health apps have already shown proven reductions in acute care utilisation across diabetes prevention, diabetes care, asthma, cardiac rehabilitation and pulmonary rehabilitation (IQVIA). According to IQVIA, the use of digital health apps in just these 5 patient populations could save the U.S. healthcare system an estimated $7 billion per year.
In terms of the number of global cases, in 2017 hypertension and cardiovascular disease were by far the biggest markets, with 1 billion plus cases each (Research2Guidance). Diabetes, obesity and depression have respectively 422m, 600m and 300m worldwide cases. There will continue to be significant market opportunities for digital health apps as the prevalence of chronic disease and the number of mobile users increase.
#4 Health App Design
There are a large number of low quality and poorly designed health apps that remain in the marketplace. As such, it is important to note that app stores have begun removing low-quality apps, including outdated and abandoned apps, as well as those that no longer meet current guidelines or don't function as intended.
For success in the health app market, it is important to be up to date with the latest design trends. Approximately 85% of health apps in the market today are for wellness, designed to be used primarily by the consumer, and the remaining 15% are medical, designed to be used by physicians (Business Insider). [For more information on the various types of health apps, read this blog post].
Some shared characteristics of the current top-rated health apps include:
The apps are available in both the App Store and Google Play

The apps are not publically available to patients – instead required a healthcare organisation to contract a software developer for app development.

The apps satisfy at least 1 of the 3 digital health capabilities that consumers want the most: digital access to medical records, appointment management, and/or prescription refills 

(

Accenture

)

.
When developing a health app, it is crucial to take on a human-centred design approach that encompasses multidisciplinary perspectives and research to develop a thorough understanding of the end users motivations and values. This approach is particularly suited to solving problems in healthcare which rarely exist in isolation and involve multiple stakeholders. When designing a healthcare app, take into consideration the following:
Will the app address the user's needs and concerns?

Will it have security measures to keep sensitive data safe?

Can the app provide an improved and seamless user experience?
Mobile healthcare apps differ greatly and can serve various user groups and needs. For healthcare providers looking to better engage patients on their mobile devices, Accenture suggests taking a collaborative approach by partnering with a third-party development company. It is also recommended to consider cross-platform app development in order to ensure a market share in both the major app stores. Therefore, when planning the development of your health app it is important to find a development company with the required expertise to complement your strategy. 
Related 4 Best Practices for Developing mHealth Apps
---
Mobile health solutions are essential for healthcare providers who aim to offer higher quality care. With the right app, your business will be able to enhance its clinical efficiency and improve patient outcomes. At Liquid State we see the social and economic value in improving the patient experience through patient-facing apps and integrated communications solutions. Our solutions help drive quality care, patient engagement and improved clinical outcomes.
To find out what Liquid State can do for your organisation, get in touch with us today.