The Real Reasons Businesses Should Invest in Mobile Apps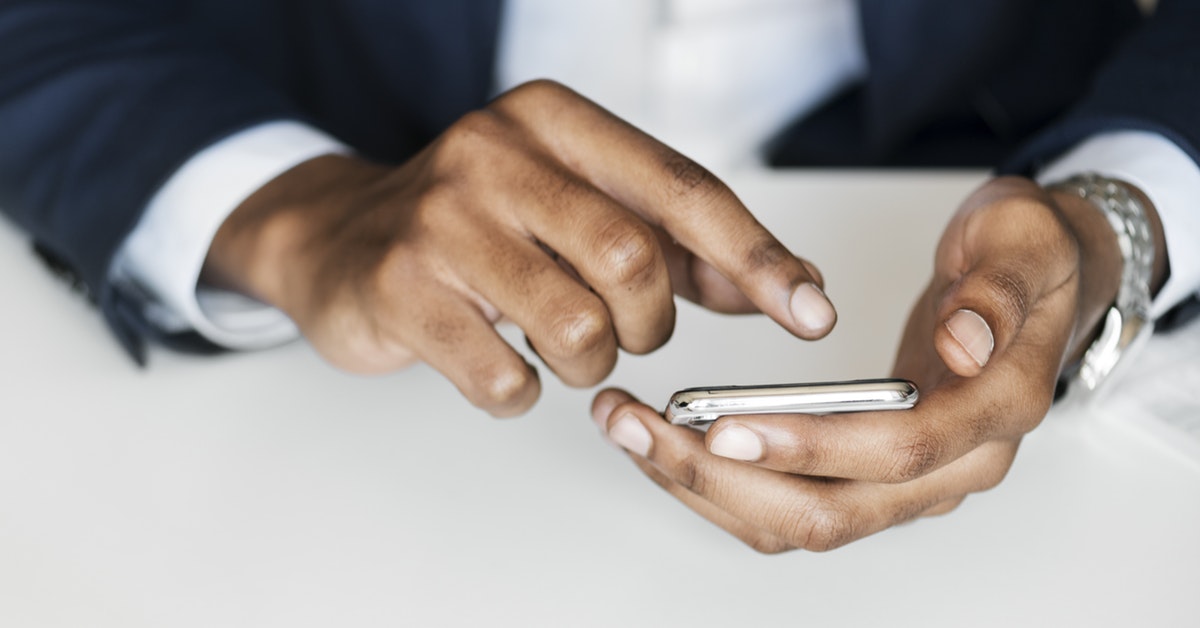 As consumer behaviour continues to evolve, businesses need to adapt their strategy to be 'where their customers are'. As a result, companies are moving rapidly toward making mobile apps commonplace as business tools and assets.
One of the key questions in business is 'how you can give your brand a competitive edge'. The answer; mobile apps. Industry leading companies are designing holistic experiences that leverage the personal nature of mobile. While there is still some hesitation surrounding mobile apps, it is important to understand that a native app isn't just a mobile version of your website but rather an engaging and experience-driven environment crucial for creating a cohesive customer journey. A mobile app can be used to build a strong mobile presence, that results in far better engagement for your investment.
A mobile-first approach is imperative for successful businesses, yet many still are behind in adopting a mobile app strategy. Where mobile web can help raise awareness and increase traffic, mobile apps, on the other hand, allow you to foster the customer relationship and increase retention. Without a mobile presence, significant marketing opportunities are missed.
Related Why Do Businesses Need a Mobile App?
So Why I

nvest…

In order to be relevant in today's market, a mobile presence is a necessity. We are seeing a huge increase in the variety and types of business apps that are being downloaded, with more consumers turning to mobile apps to interact with brands. In fact, it is estimated that between 2016 and 2020, yearly downloads will double to roughly 284 billion. As such, it has never been a better time to start the mobile app development journey.

Enterprise demand for custom app development continues to increase; from 23% in 2014 to 32% in 2016. One ContractIQ survey found that 62% of businesses already have an app or are in the process of building one. Of those, 20% use their apps for branding purposes, 30% have revenue generating apps, and 50% use them for support and engagement. In fact, companies of various sizes and maturity are investing in mobile in order to generate new or increase existing business.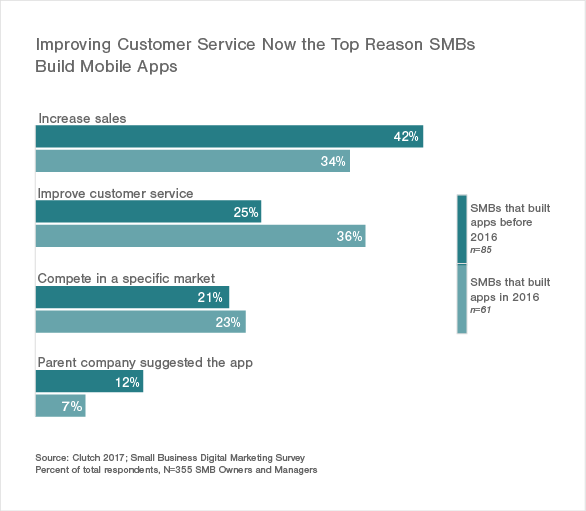 Businesses choose to invest in apps in order to provide a better customer experience, help boost sales, or to become more competitive in the market. According to Clutch research, the two primary means by which mobile apps facilitate business improvement are through improving customer service and providing return on investment, both of which reflect the main reasons businesses give for developing mobile apps.
The Value of Mobile Apps
There are many reasons why businesses should embrace the revolution and invest in mobile apps; here are just a few…
#1 Increase Customer Engagement
Mobile apps are a great strategy to keep your customers engaged with your brand, offering unique features that are more engaging than Web. Apps can prompt both potential and current customers to engage, and continue to engage, with your business. More specifically, they act like gentle reminders that pull your customers back to your business.
An app offers your customers a more convenient way to browse, shop and interact with a brand, with easily accessible information right at their fingertips. As a result, your brand is right in the palm of your customer's hand. More importantly, the more often your customers are engaged and interact with your brand, the more inclined they will be to buy your product and/or service.
With all the noise out there it is easy for businesses to lose impact on their customers. As the mobile ecosystem continues to expand businesses are creating mobile apps to capture the connected consumer and reach an even wider and more engaged market than before. A mobile app offers a unique 'walled-garden' environment allowing businesses to increase interactions and make true connections with their customers. This 'walled' branded environment provides app users with a constant and seamless experience; reducing noise and clutter whilst increasing engagement with your brand.
#2 Direct & Personalised Channel
One significant advantage of a mobile app is that it provides businesses with the opportunity to personalise their communications. By leveraging user profile information, companies are able to engage their customers individually in real-time. This is extremely important when more than 70% of consumers expect personalised experiences with the brands they interact with.
An app provides brands with the tremendous opportunity to offer a highly personalised user experience and develop deeper relationships with customers. This, in turn, leads to better outcomes and engagement with the brand. App user profile information can be leveraged to deliver highly segmented and personalised communications to each user based on their individual preferences.
With an app, brands have the opportunity to leverage a direct marketing channel. Through push notifications, businesses are even closer to facilitating direct interactions with consumers. More so, push notifications are an invaluable tool that can engage your audience and easily remind customers about your products and services at the optimal time.Thanks to personalisation and app-specific features such as geolocation, brands are able to create relevant mobile-moments. More specifically, leveraging user location and profile information to personalise notifications help make them more relevant and attractive to users. This level of targeting and personalisation not only creates a better experience for users but also fosters a stronger relationship with the brand.
#3 Build Brand Awareness
One of the most important things an app offers to consumers is awareness of and communication with your brand. It provides an environment where regular interaction with your target market can foster trust and loyalty. Not to mention, the more frequently a consumer is exposed to your brand, the higher their intent to purchase becomes. It is for this reason that mobile apps are considered an effective strategy for promoting and building brands.
In today's competitive world, mobile apps are one of the best tools for exponentially enhancing the visibility of your brand. This can be achieved by creating an app that has features your customers will love, while at the same time is well branded and intuitively designed.
#4 Encourage Brand Loyalty
It is important to make a true and sincere connection with your customers in order to foster brand loyalty. It is the user experience of an app, and how valuable this is to customers, that has tied brand loyalty to mobile apps. This is one of the most important reasons why you should consider creating a mobile app for your business. Enhancing the accessibility of your products and services is a great way to organically increase customer loyalty and improve your offering.
Mobile apps offer a great way to reward and add value to your customers. It is important to try and provide a level of value to your customers that they can't get anywhere else. For example, digitising loyalty programs where promotions can be tailored to each individual customer and their personal preferences is a powerful way add value whilst encourage return customers.
Related Building Brand Loyalty with Mobile Apps
#5 Customer Service & Support
According to SalesForce, 70% of purchases are influenced by the customer's experience alone. Mobile apps offer a more efficient channel for your customers to get in touch and engage with your brand. From simplifying online purchases to providing easy-to-access information, mobile apps can significantly improve your customer's experience and satisfaction. When customer satisfaction increases, ultimately sales do too.
One strength of the mobile experience is that it can build the feedback and support loop into the app, providing customers with an instant, easy and responsive way of contacting and interacting with your brand. The readily accessible and intuitive nature of mobile apps make it the ideal customer service channel that can significantly improve the customer experience. For example, having a messaging or help desk feature within your app can really make a difference in the way you communicate with your customers.
#6 Remain Competitive
With the continued growth of mobile and the ever-evolving consumer behaviour, an app for every business will fast become an expectation. Creating a mobile app is a sure way of staying competitive and securing a strong presence in your industry. They provide businesses with the opportunity to stand out from the crowd by offering a visually appealing and interactive environment. Your competitors, if they haven't already, will most likely implement mobile apps as a part of their business strategy. As a consequence, any inaction in app development may result in falling behind the competition.
#7 Increase Revenue
Mobile apps give your brand the opportunity to increase and earn additional revenue. By making the purchasing process more convenient, intuitive and simple, apps can significantly improve the customer experience which, in turn, positively impacts sales.
Mobile apps can also be very easily monetised, providing businesses with the opportunity for additional revenue. Some of the most popular app monetisation strategies include: in-app advertising, in-app purchases, freemium, and paid app. If users enjoy an app and feel it offers them value, they are often happy to pay for it. Therefore, by offering your products or services, or by advertising in your app, you can introduce a new revenue stream into your business strategy.
#8 Capture Consumer Insights
A mobile app gives companies the unique opportunity to really understand their customers. More specifically, an app provides an efficient way for businesses to collect, analyse and leverage customer data. By capturing information such as customer preferences and behaviour, apps offer the potential to influence marketing strategy with invaluable consumer insights. Understanding user motives, the most popular features or pathways, and who your users are can help you make the right strategic decisions to focus your marketing efforts in the right place. Therefore, with apps, businesses have the ability to use data-driven marketing tactics to offer consumers a highly personalised experience.
Unlocking the Potential
The world has gone mobile, and there is no turning back. Regardless of the industry you are in, mobile apps are extremely useful for attracting new customers and retaining old customers. Whether you are trying to improve the customer experience, increase engagement, or increase sales, launching an app can definitely help you achieve your goal. It is important to take advantage of the mobile app market while it is still relatively untapped. Doing so will allow you to reap the value that business mobile apps produce.
Related Pre-Planning for Successful Mobile App Development
The next step…
It can be difficult to take a critical view of your business and understand how it might translate onto mobile. Instead, try and think of an organic way that your business could be extended through mobile.
Consider the resources your business can dedicate to future app development projects. While having an internal team may allow you more control over the development process, it may also require a larger investment. Bringing on an external resource, like a freelancer or development agency, can be a more worthwhile investment for some businesses.
Related [Checklist] How to Prepare for Mobile App Development
Related 10 Things to Consider When Hiring an App Development Company
---
Have you found the right app development platform to execute your mobile strategy?
With the huge drive in mobile app downloads expected to continue, now is a good time to seriously consider your mobile strategy. At Liquid State, we understand the importance of implementing enterprise app software as a part of corporate strategy. Our platform empowers businesses to build native code-free apps for a variety of business functions.
With Liquid State, you can manage and deliver the right communications to the right people on the right devices. To chat with a professional about your future mobile app needs, contact us today.
What is Liquid State?