Medication Management:mHealth Apps to Boost Adherence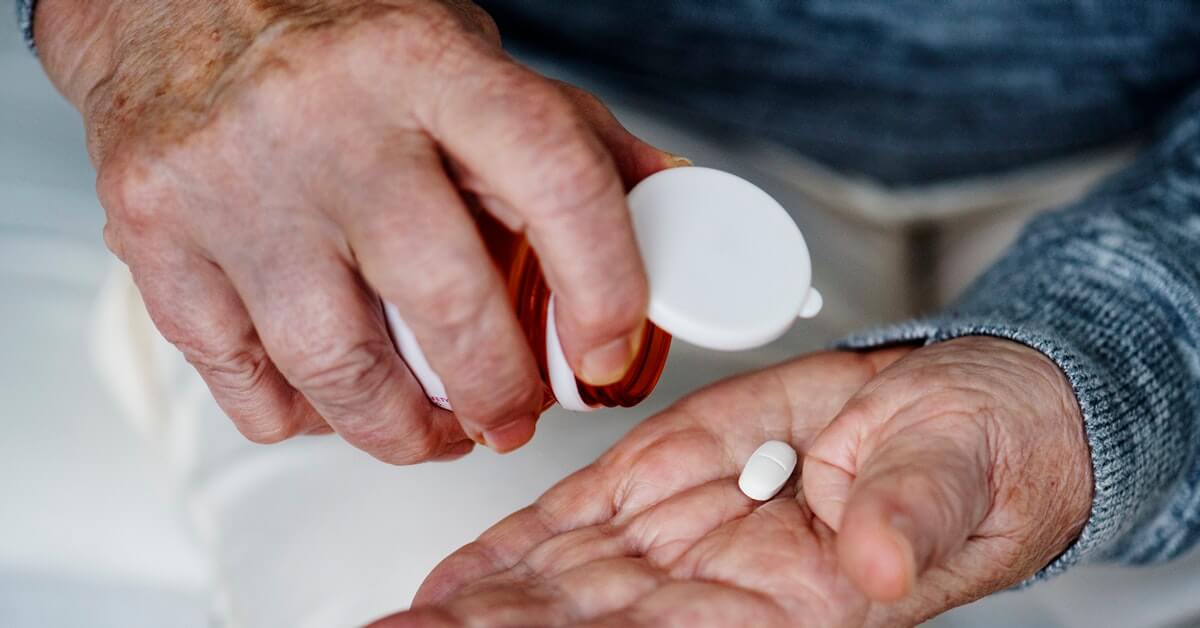 Medication non-adherence is costly and has significant impacts on the healthcare industry. Ultimately, the challenge lies in configuring medication adherence in a way that is accepted as a part of the patients daily life. Tools such as mobile health apps are increasingly being used to empower patients and providers to play a more active role in medication management.
The consequences of non-adherence can be severe, patients who do not correctly follow their medication schedule run the risk of serious health issues, adding to healthcare costs and medication waste.
From increasing the likelihood of preventable disease progression and hospitalisations to avoidable doctor and emergency room visits, non-adherence can adversely affect patients' long-term health and increase costs of care – Lux Research
Given the significant cost of non-adherence to an individual's health, as well as to the healthcare industry as a whole, it's essential for patients and clinicians to work together to find solutions to overcome this. Industry leaders have already begun to harness the power of mobile technology to improve medication management and health outcomes.
The Real Cost of Non-Adherence
Roughly 80% of all interactions between a doctor and a patient end with at least one prescription, amounting to more than 4 billion prescriptions a year in the United States alone.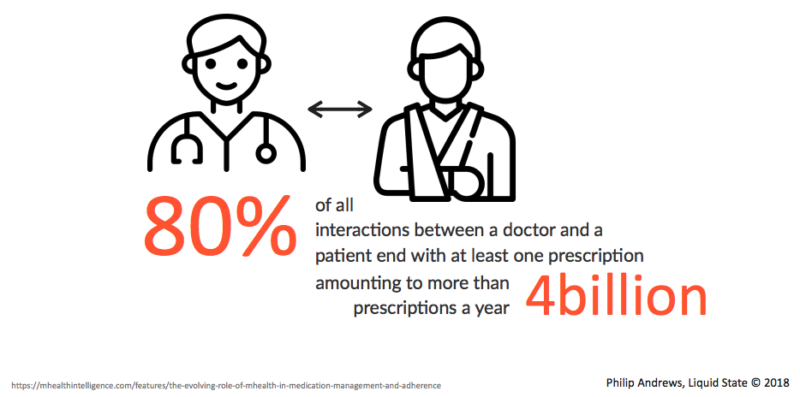 It is estimated that 50% of prescriptions filled each year in the US are not taken correctly. Forgetfulness is the most frequently reported reason for non-adherence. Other factors contributing to this include communication barriers, socio-economic factors, motivation, and a lack of understanding about the medication.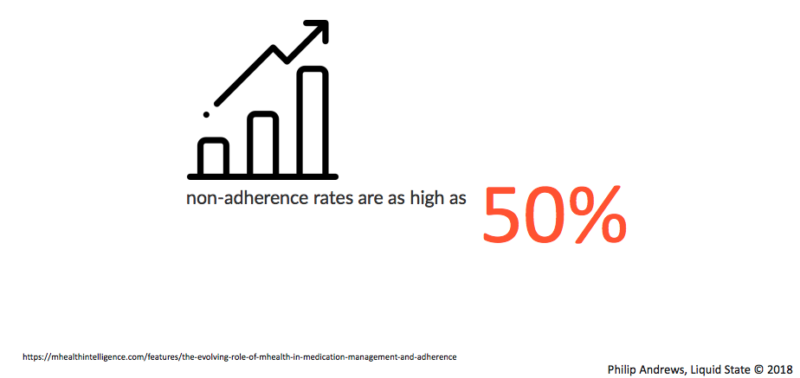 Non-adherence is a significant issue for disease management. With at least half of US medication users not taking their medication as prescribed, experts estimate a cost of $300 billion a year in avoidable healthcare expenses, or $1,000 per person. One study in particular found that diabetes patients cost US $2,763 more to treat when they are non-adherent.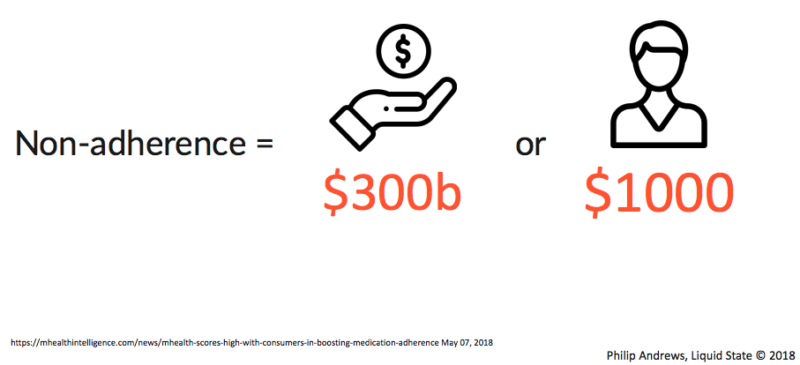 The Bottom Line
Poor medication adherence is associated with increased re-hospitalisation, morbidity, mortality, and increased healthcare costs. As a preventable healthcare problem, it is essential to implement effective medication management initiatives in order to improve quality measures, health outcomes and decrease overall costs.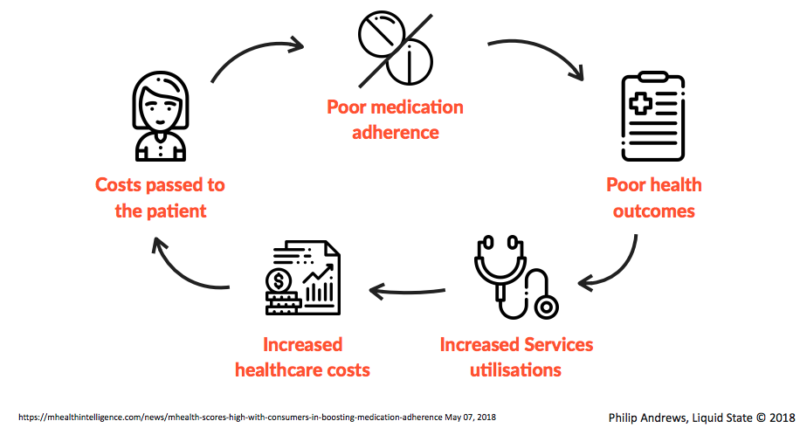 According to a recent survey, more than 80% of CMIOs believe medication management initiatives are actively helping to reduce the number of adverse drug events that can threaten patient safety. However, the healthcare industry still has significant work to do in order to create comprehensive medication adherence and management programs that positively impact patient care.
A patient's level of adherence drops when there is a lack of engagement or long lapses between communication with their healthcare providers. Therefore, healthcare organisations that provide more personalised support and communications to patients through mobile apps can improve rates of medication adherence and in turn lower costs for the patient, the organisation and government payers.
Medication Management Apps
Healthcare providers are using a variety of digital health tools to empower patients to follow a care plan and take their medications. The widespread adoption of smartphones provides a unique opportunity for clinicians to leverage mHealth (mobile health) as a means for delivering healthcare in a personalised and cost-efficient manner. According to a 2016 report, healthcare in the US could save roughly $290 billion a year by using mHealth technology for medication management.
Mobile devices are easily accessible, available 24/7, and can be leveraged to deliver personalised and tailored communications to patients. More specifically, mHealth apps can be used to remind patients to pick up or renew their prescriptions, take medication based on their medication schedule, keep track of their medications, and record progress.
Delivering personalised communications via an app to a patient not only increases engagement, care plan adoption rate and medication adherence, but also improves outcomes. One study, in particular, found that tailored mHealth messages can 'prod' patients to improve their medication adherence and help healthcare providers intervene when medication schedules are not followed – subsequently improving health outcomes and costly clinical interventions.
Related How to Boost Patient Engagement with Mobile Technology
A Growing Demand
The modern patient favours inexpensive, easy-to-use health tools that fit seamlessly into their daily routine. According to a 2015 survey, 58% of mobile users have downloaded at least one mHealth app, and 41% have downloaded more than five.
Studies have found that patients following a medication schedule want tools like mHealth apps and wearables to help them improve medication adherence. In fact, 50% of patients believe that mHealth technology would help them become more adherent, and 75% say that reminders would more likely help them improve their medication management.
Research has also found that more than 10% of the US caregivers are using a mHealth tool to track medications for their charges, and a further 30% would be interested in using medication management apps. This indicates a potential for future growth in this area.
Related Are Clinicians Ready for Digital Health Technology?
The Benefits of Apps
Medication management is crucial in shaping clinical outcomes. With mHealth apps, both doctors and their patients have access to the best data available to make effective decisions and adjustments on future health care plans. From the patients perspective, mHealth apps offer better education and care management – whilst leveraging mHealth apps allows healthcare providers to gain insight into their patients and optimise care delivery.
Utilising mHealth apps provides a significant opportunity to measure and improve medication adherence at the point of care. Apps can be used to track medication adherence and identify actionable issues in real time which is particularly helpful for patients who are taking several medications at once. Some other benefits of mHealth apps include:
Improved patient satisfaction by providing easy access to personalised medication histories and management plans in an intuitive format;

Improved patient satisfaction through personalised communications relevant to healthcare needs;

Care plan quality reporting through direct and personalised patient medication-specific assessments and satisfaction surveys;

Patient care management improvements through improved awareness and engagement in medication management programs.
Related The Rise of mHealth Apps: A Market Snapshot
Important App Features
According to a 2015 study, mHealth apps included the following features relevant to medication management:
65.3% of apps offered users the ability to set medication reminders.

64.6% had the ability to export or share information from the app.

62.5% of medication adherence apps offered multi-platform use.

48.6% of medication adherence apps provided users a medication database.

20.8% provided users with multiple language options.

12.5% offered medical social networking that allowed patients to choose caregivers or providers to actively monitor their medication adherence.

10.4% offered users information on food and drug interactions regarding their medication.

9.7% of apps allowed users to refill medication.
Related 4 Digital Health App Trends to Consider for 2018
A Strategy for Success
Empowering patients to manage their own healthcare through mobile apps is essential for improving medication management and adherence which could save the healthcare system billions of dollars each year. Success comes from integrating with the patient's daily routine, reminding them about their health when it matters most. While the patient favours an inexpensive, easy to use medication management tool that fits into their daily lifestyle the doctor is more focused on clinical and regulatory validation, preferring solutions like remote monitoring platforms that use video or photos to confirm medication adherence.
User-friendly interfaces combined with effective technical capabilities are both required for addressing this market which will continue to grow due to population ageing and epidemiology trends – Milos Todorovic, Lux Research
An mHealth app can deliver reminders that prompt patients to refill, pick up or take their medications and complete surveys about their adherence, pain levels and symptoms – providing invaluable insights. A high quality medication management app must include features like: refill reminders, medication tracking, a medication database, and data security. However to achieve success, a medication management solution must:
Be used consistently by the patient;

Support the sharing of data between patients and providers;

Be prescribed by providers;

Support patients who rely on medications or have to manage multiple chronic conditions.
Around 65% of clinicians said they need an integrated workflow that allows them to easily coordinate the entire medication management process. The key is to partner solutions with clinicians that can implement, manage and leverage the platform to provide support, inform better care decisions and flag high risk patients. Keep in mind that clinicians do not have the time to look at raw data. As such, information collected within a medication management app needs to be presented in an easy-to-digest format through the use of actionable analytics.
Related A Clinical Mobility Strategy: 7 Key Ingredients for Success
---
Leveraging medication management apps can significantly increase adherence and drive clinical efficiency, quality care, patient satisfaction and improved clinical outcomes.
To find out what Liquid State can do for your healthcare organisation, get in touch with us today.