A Top 5 Hacking Health Solution: Compania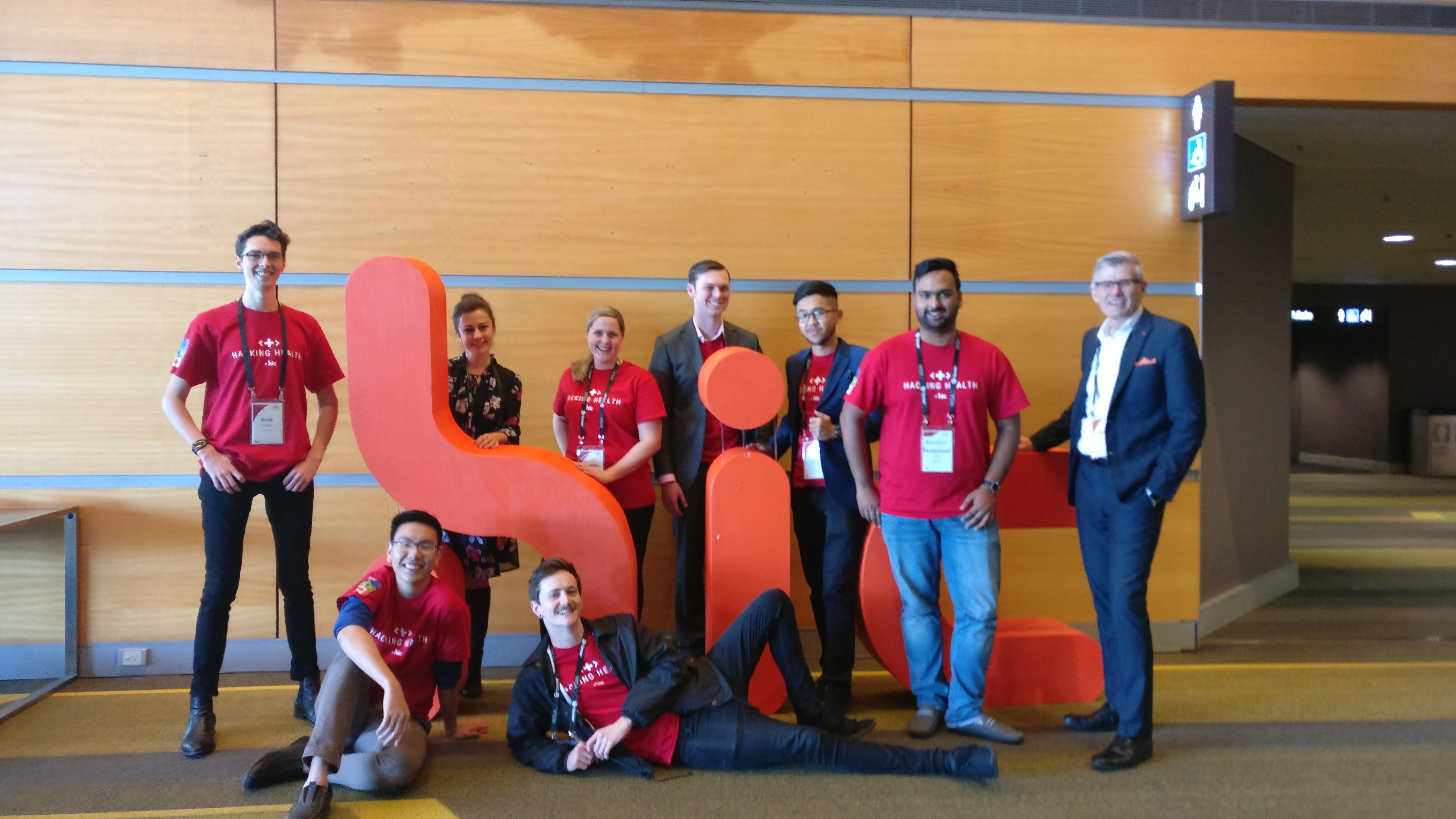 Congratulations to the team from Liquid State and QUT Foundry who made it to the top 5 at this years Hacking Health @ HIC  in Brisbane. We thank the QUT Foundry for the opportunity to test the power of the Liquid State Platform to facilitate rapid prototyping of their innovative connected healthcare solution, Com.pania. Leveraging the platform, the hackathon team was able to develop and prototype the solution in less than 3 days.
Hacking Health @ HIC
Hacking Health runs over 3 days at HIC – the premier digital health, eHealth and health informatics conference in Australia. Liquid State was proud to support this year's Hacking Health event in Brisbane by offering our platform, and support staff, free of charge to all teams who needed a strong and flexible communications platform to underpin their health solutions.
Hacking Health aims to spark innovation and change by connecting the clinical, health and community care sector with the growing digital health, developer and health informatics community. Hacking Health provides an opportunity for designers, developers, researchers and engineers to connect with a variety of digital health experts to build meaningful tech. The goal is to rapidly prototype practical ideas that could be useful in health and community care whilst fostering new cross-disciplinary relationships that lead to more significant innovation further down the road.
Being able to execute your ideas quickly is a key aspect of any hackathon, for this reason we are providing all teams with access to the full Liquid State Platform to enable them to deliver complete, fully functional, solutions in hours rather than weeks and months   – Philip Andrews, CEO Liquid State
Com.pania
The Problem
A patient's knowledge about their treatment is often limited due to the complex systems and communication processes that take place. This leads to a disconnected healthcare system, where the patient experience is not optimised and hospitals lose time, money and patient satisfaction. Connecting the patient through their healthcare journey could yield significant benefits not only for patients and their loved ones but also for hospitals and health outcomes.
Related Top 8 Reasons to Improve Patient Communications
The Solution
Connected. Informed. Empowered.
With Com.pania, healthcare leaders have the opportunity to create connected and personalised patient journeys that can guide and engage patients through their care. Com.pania provides a platform where patients and their trusted network (family, carers, friends) can have an engaging experience and access to their medical status, diagnosis and medications on their personal mobile devices.
I felt empowered and like I have a voice

 

– Health Consumer
I didn't even know I needed this until you created it

 

– Health Consumer
Hospitals can streamline processes and provide a personalised communications channel to their patients in order to empower, educate, update and inform them during their journey. This facilitates better patient experience and improved health outcomes whilst increasing hospital productivity and minimising the risk of miscommunication.
 When you're a patient you lie in the bed, in pain, hooked up to machines. You are afraid, you are in an ill-fitting gown without any dignity, you haven't slept properly and you are sick. It is impossible to digest all the information you are given  – Health Consumer
Related Leveraging Mobile: The Future of Patient Engagement Strategies
Com.pania Hacking Health Presentation
The App
Using the Liquid State Platform, the team was able to rapidly prototype Com.pania; a patient-centric communications channel delivered via cross-platform apps. Com.pania combines all patient communications into a single place where it can be easily managed, delivered and tracked. During the onboarding process, a patient can add family members or friends to a 'Circle of Trust' that would then bundle their communications. If a patient is staying in the hospital, they can schedule 'contact' and 'no-contact' time through a calendar integration that is shared with their trusted network. Patients can also update their movements within a hospital, to prevent any clashes in schedules.
Hospitals can import content into their patient engagement platform and publish personalised segmented content through the app to the patient. The solution's ability to integrate with existing hospital systems allows patients to receive a real-time status of their treatment and content tailored specifically to their health care journey. After a patient creates a profile, they can select their treatment stage for example Diagnosis, Pre-Operations, Op-Day, Post-Operation etc. Additionally, hospital staff can manage users and change their treatment status instead of the patient having to do it themselves. Hospitals can also view and monitor app engagement, and send instant or scheduled push notifications to groups or individuals.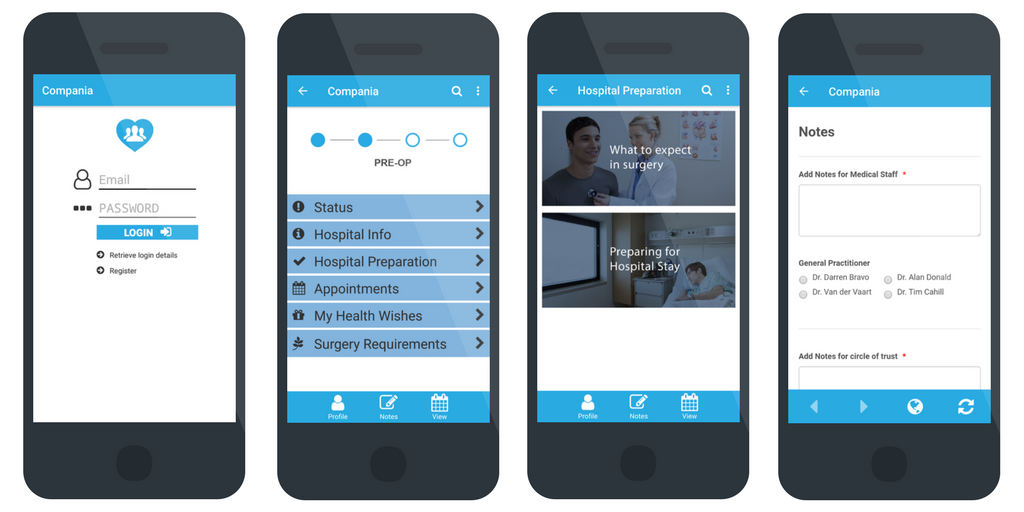 FEATURES: For the patient
View status of your treatment

Download content relevant to your treatment

View bookings with family for a given day

Schedule blocks of 'no contact time'

Receive push notifications

View a live-timeline of your treatment progress

Add notes for medical staff

Add members to a Circle of Trust

Add notes for Circle of Trust
FEATURES: For the healthcare provider
Create a profile

Edit profile to change treatment stage

Import content from Word, PowerPoint, Custom HTML, Audio, Videos, in5, PDF

Manage app users

View and monitor advanced analytics

Send instant or scheduled push notifications

Import content using API

Automated content exports for delivery to patients
Related 4 Best Practices for Developing mHealth Apps
See you at the next Hacking Health!
Working hard with @QUTfoundry to develop an empowering and #innovative health solution at #hackinghealth #hic17 – https://t.co/92WrmuyAwQ pic.twitter.com/H950ne2zKs

— Liquid State (@LiquidStateTeam) August 8, 2017
At Liquid State we see the social and economic value in improving patient communications and the patient experience, through patient-facing apps and integrated communications solutions. Liquid State's dedicated Patient Engagement Platform provides personalised clinically-aligned communications that can be used as a perioperative support tool. Leveraging this code-free solution is a quick and cost-saving approach that eliminates the need for custom development work.
To find out more about our Platform, download the factsheet or get in touch with us today.