Connecting Citizens: City of Logan App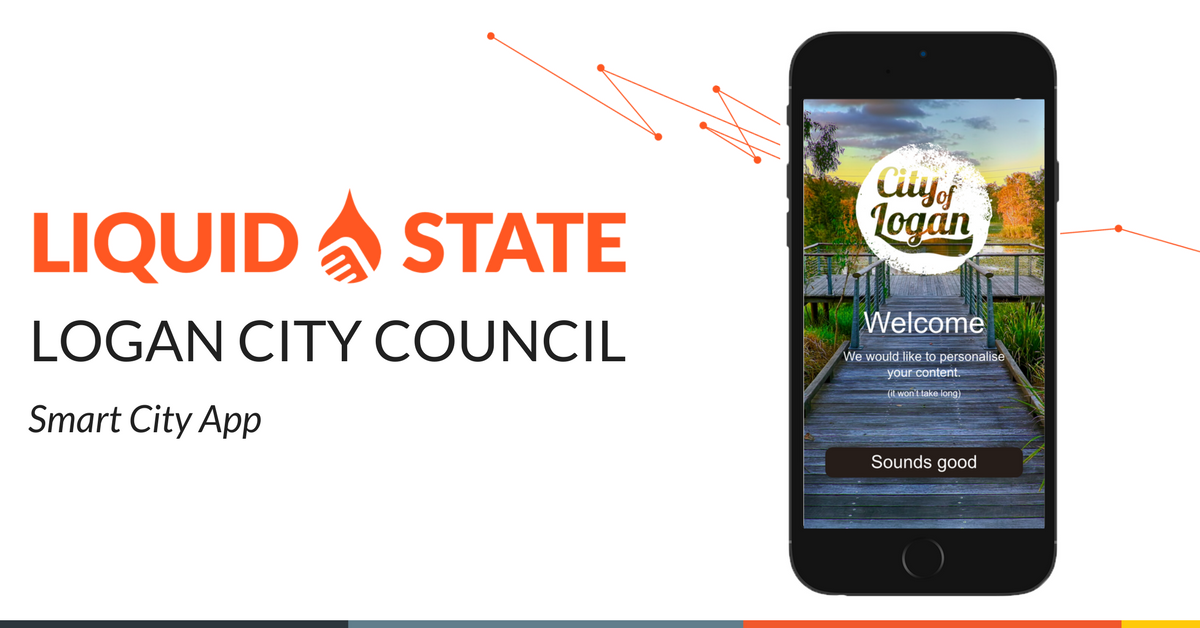 Australia is home to 537 local councils that are managed by over 6,600 councilors. With a growing population, local councils need to find different avenues to engage the 15.3 million of the 24 million Australians who have a smartphone (IAB Australia). One local council in the city of Logan, Queensland, has done just that using the Liquid State platform.
For citizens, the level of engagement with local government is generally less than engagement with State or Federal Government. This might have something to do with how local governments currently engage with the community. The delivery of information to citizens usually adopts the look and feel of paper in the mailbox. Not only does print-publication become wasteful both environmentally and financially — the level of engagement between the community and the council is nearing non-existent.
Connecting Citizens
Collecting the responsibilities of council's and matching them with the needs and expectations of modern citizens has led to an app solution that engages with the wider community — at a level that produces utility for both citizens and the local government. With the new Logan City Council app, City of Logan, citizens can enjoy a convenient way to stay informed and report council related maintenance issues that arise in their neighbourhood.
The City of Logan app has been developed to include features such as:
'Whats on'

i

n the City of Logan

Push notifications for bin reminders

Information on all available public services that are automatically updated to ensure currency of information

Property tool that hosts: valuation, electoral details, and school catchment areas

Reporting tool for non-urgent issues: abandoned vehicles, bus shelter issues, drainage issues, footpath issues, illegal dumping and graffiti

Jobs in the Logan City area

Park and facilities finder tool

+ heaps more
The City of Logan app is a starting point for the 7th largest local government (by population) in the nation where the expectations of the modern citizen are met with quality and functionality. Download the free City of Logan app and have your city at your fingertips.
I love the app, as being new to Queensland and the Logan area I find it a very useful tool to let me know about the area etc. Our previous council in Sydney didn't have this type of communication tool so I find this fantastic. Well done Logan City Council 
Behind the Scenes
Sitting behind the City of Logan app is a platform powered by Liquid State which features automatic content updates through RSS feeds and an integration with Council databases to deliver bin notifications every week. For tracking ongoing user engagement, Logan City Council has the ability to view analytics on:
Active users

Sessions (sessions per user too)

Documents viewed

Pages viewed

Searches in the app
As well as the ability to export the raw analytics data to CSV format. This gives Logan City Council the foundation to effectively engage their citizens and deliver them the information that matters most.
Related Smart Cities, Smart Citizens, Smart Apps
---
The City of Logan app is now available for download on both iOS and Android devices. Download the City of Logan app to receive bin reminder alerts, report on maintenance issues and concerns, be informed on the latest information on 'what's on' in the city, and access to Council facilities and locations.
Liquid State's Smart City Solutions empower organisations to deliver personalised content via cross-platform apps, web, and print. With the Liquid State platform, you can build native code-free apps for a variety of business functions. Manage and deliver the right communications to the right people on the right devices.
To find out more about Liquid State's Smart City Solutions, get in touch with us today.