A Single Source of Truth Approach to Content Management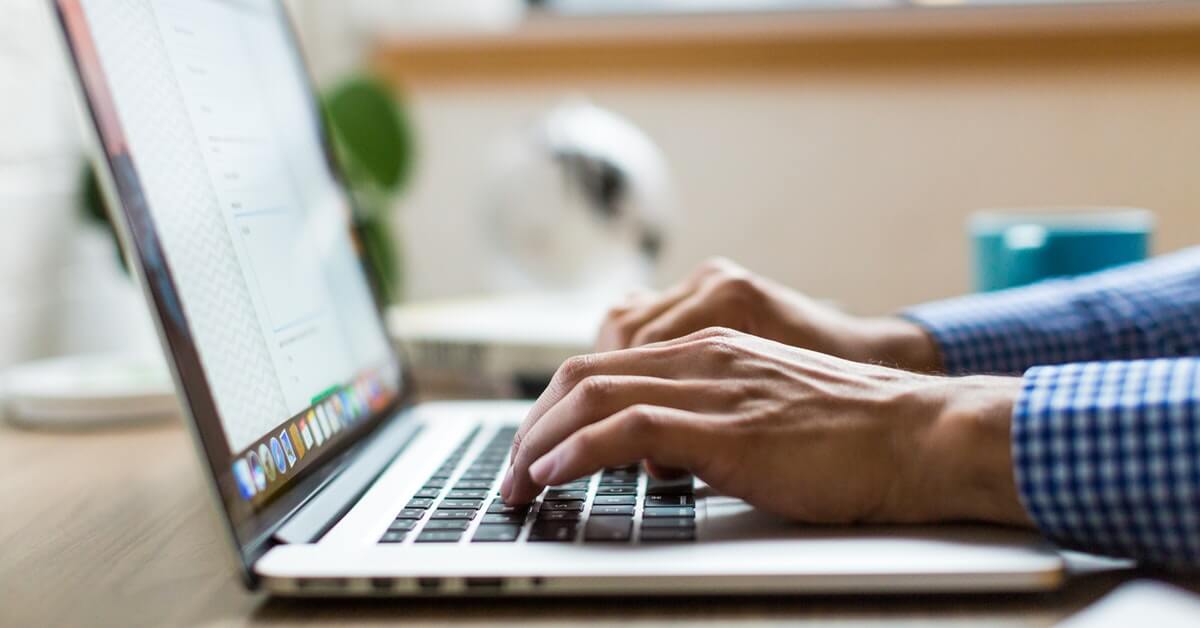 An alarming number of businesses continue to embrace the old constraints of legacy and siloed content management systems. Introducing a single source of truth platform can help companies breakdown these silos and achieve higher productivity and workplace efficiency.
The Content Crisis
Decades after the 'paperless office' concept was introduced, the efficiency drag and productivity losses associated with printed documentation still lingers on through the mismanagement of digital content.
The amount of content organisations need to manage across teams and business units is growing exponentially. This brings with it challenges that too often put businesses at a disadvantage, negatively impacting operational efficiency and creating barriers to making timely decisions. Some of these challenges include:
Multiple employees contribute and edit content without awareness of what changes others have made or are making.

Once content is shared, consistency and quality is hard to control.

Changes to content is not recorded and it can be difficult to source the original document.

Searching for documents across siloed systems can be complex and time consuming.
It is common to see content fragmentation within an organisation including the duplication of information and uncertainty around original documents and current versions. Typically, in large enterprises, employees store content by their own means – the consequences of which include increased costs, compromised security and general inefficiency. Time is often spent following up with coworkers, waiting for a response and attempting to facilitate collaboration.
Working with outdated and disparate systems can prevent your business from reaching new heights. The real power of digitisation and a digital workplace comes from breaking down silos and implementing a single source of truth (SSOT) approach to content management. 
A Single Source of Truth
A single source of truth is a dependable, accurate, and consistently updated centralised and easily accessible hub of information. In a nutshell, it provides a central repository and single source of distribution for all communications and content in an organisation.
SSOT platforms are becoming indispensable to companies striving to achieve operational efficiency. With a single source of truth, content is stored only once, on one platform and in one location. This allows content to be easily managed and shared among teams and distributed from one source to multiple channels.
In terms of content management, a single source of truth increases the efficiency of tasks such as:
Authoring

Editing

Reviewing

Formatting

Translating

Multi-channel formatting and optimisation

Distribution to various communication channels and devices
So is it worth the investment?
Globally, organisations are beginning to realise the true value a SSOT platform has to offer. Here are 3 key reasons to consider implementing a SSOT content management system in your organisation…
#1 Breakdown Silos
In any company it is common to have several non-integrated content management systems. Each one of these systems create silos of information within an organisation adding frustration, complexity and costs to workflows and managing various systems.
Sticking to a system that is siloed makes it extremely difficult to ensure all employees have access to the right information that is factually correct, up to date and authored by the right person. With content being stored in separate systems across departments and locations, resources are wasted spending time searching for the correct information.
According to Adaptive Insights 2015 report, 69% of CFOs said that keeping information siloed in departments is the biggest or most common financial mistake that companies make today. A SSOT platform offers an ideal solution by integrating what is often dispersed functionalities into a single interface where all tasks can be streamlined and accomplished efficiently.
#2 Improve Workflows
According to McKinsey, workers spend approximately 20% of their time searching for information or for someone who can help them with specific tasks. Most companies trickle information through predetermined hierarchies. This often results in delays, limited feedback, and a complete dependence upon the individual efforts of each person in the chain.
A SSOT platform can make this chain much more effective by opening up communications and collaboration, having a positive influence on the way employees work. With a platform in place, users have the ability to seamlessly transition from one workflow to the next. 
Streamlining workflows saves companies both time and money, empowering employees to work more efficiently. Implementing a SSOT platform can ultimately transform workflows, increasing flexibility and productivity.
#3 Manage Content in One Place
Centralising your content isn't only a step toward greater productivity but also to avoiding costly content mistakes and inconsistencies. Version control has always been an issue in content creation and management. When multiple versions of a document exist it rapidly becomes unmanageable and time consuming for processes like discovery, editing and styling.
A SSOT tool offers true collaboration without the version and ownership issues. Workers are able to efficiently access, customise and optimise content for distribution across multiple channels saving a substantial amount of time and cost. This encourages better collaboration and management of content, boosting productivity and content quality.
A Workflow Comparison
Liquid State's own SSOT content management platform, Carbon Editor, allows you to create, edit, and deliver structured content that is optimised for cross-platform apps, web, print and more. With Carbon Editor, our clients have achieved up to 63% time savings simply by establishing a repository where they can create, edit and publish content to a variety of channels without any additional styling. An example of our SSOT workflow and the time savings it offers is outlined in the table below.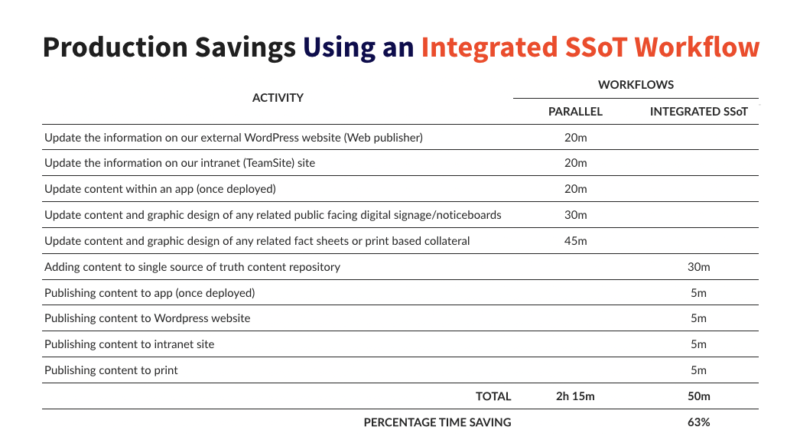 To see how an integrated SSOT workflow can save your business both time and consequently money, simply use the Liquid State Workflow Comparison Calculator.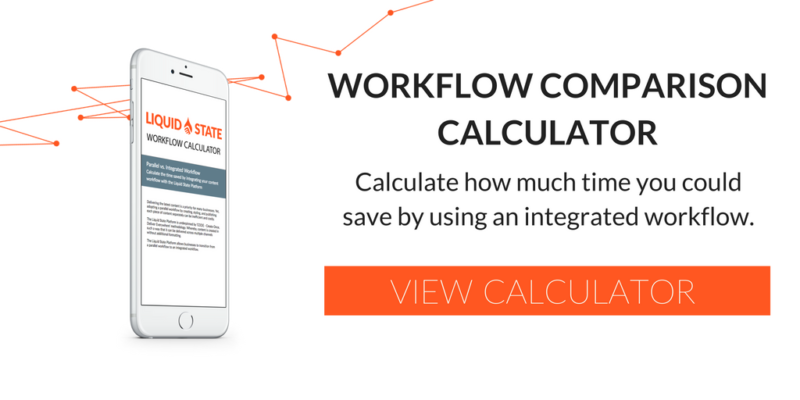 Embracing a SSOT
The secret to creating a productive, collaborative and efficient workplace is the consolidation of information – knowing what you have, where it is and who has access to it. To achieve real SSOT success, pick a platform that is able to seamlessly integrate with your existing systems and that offers the opportunity for scalability.
It will take time and leadership to shift workplace culture around content creation and management. Employees must embrace the new system and leave outdated processes behind. It is important to offer consistent training and support to your teams throughout this transition.
Keep in mind that importing and migrating large quantities of content from siloed systems can be resource-intensive. Existing content will need to be broken down into categories, imported into the new system and organised with metadata. Only by doing this will you be able to realise the full potential of a single source of truth and the efficiencies that come with it.
Related 10 Tips for Successfully Implementing Enterprise Software
---
Achieving a Single Source of Truth approach to content management can give your business the edge it needs in today's highly competitive market. If you would like to learn more about our SSOT platform and how it might benefit your organisation, get in touch with us today.