Liquid State Ranked in Top 500 High Growth Companies APAC 2020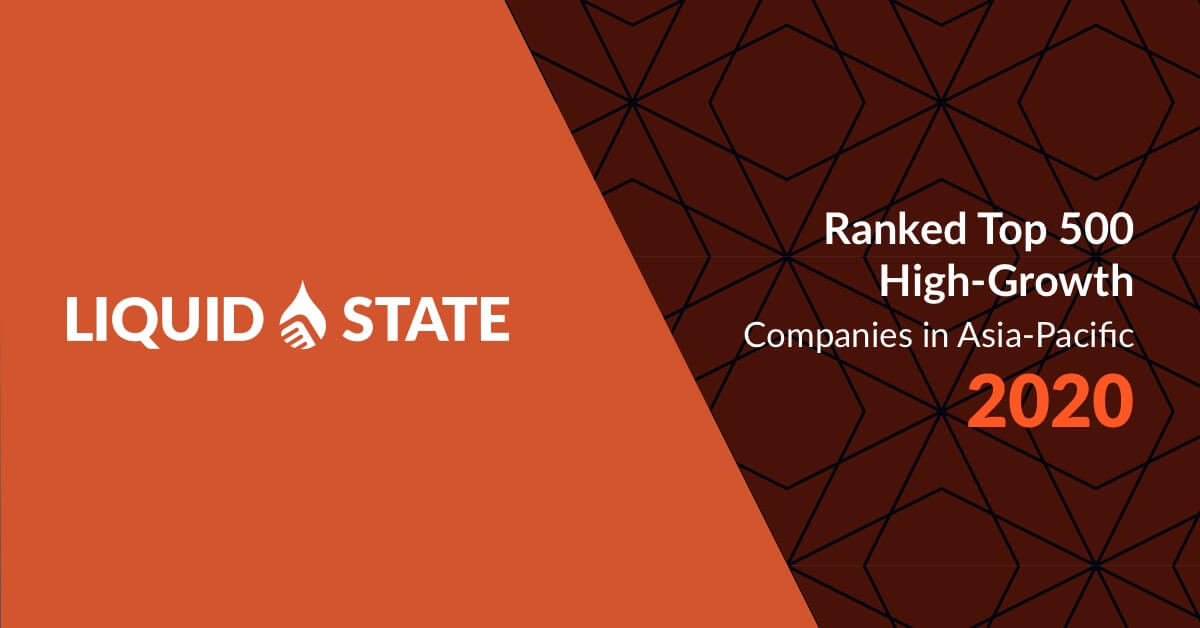 Liquid State is proud to announce its ranking in the Financial Times High Growth Companies Asia-Pacific 2020. The Financial Times, in partnership with Statista, ranked the top 500 companies from across the Asia-Pacific (APAC) region that achieved the highest compound annual growth rate (CAGR) in revenue between 2015 and 2018.
The list highlights major players driving economic growth within the APAC region and considers companies based in Australia, Japan, South Korea, India, Hong Kong, Taiwan, Singapore, New Zealand, Malaysia, Indonesia and the Philippines. The industry with the biggest presence in this list is technology, with roughly a quarter of the companies belonging to this category; followed by industrial goods (7%) and health (5%).
With over 50 million registered companies in this region, and tens of thousands of candidates identified, Liquid State is extremely proud to have achieved a ranking of #306, with a CAGR rate of 31.4%.
For more information, and to view the complete list of High Growth Companies APAC 2020, visit: https://www.ft.com/high-growth-asia-pacific-ranking-2020
As a previous winner of Brisbane's Lord Mayor's Business Awards for High-Growth Business Start-Up, we are thrilled to be recognised once again for our success and strong sustained revenue growth. We would like to thank our customers, shareholders and the Brisbane community for their continued support and making this achievement possible.
As a small Australian business competing on a global stage, Liquid State is proud to be at the forefront of integrated communications solutions. Our industry-leading enterprise communications platform powers tailored solutions for organisations in a variety of sectors; with an emphasis on improving communications in healthcare environments.
Drawing on decades of experience in publishing, communications and information technology industries, our platform is unique in its provision of true 'end-to-end' solutions for organisations who need to improve the efficiency of their communications workflows.
Even though these are uncertain times with the Coronavirus pandemic, the team at Liquid State are confident in our ability to continue to deliver solutions from this solid foundation. Both the Financial Times and Statista emphasise that the fact Liquid State has made it into this ranking is a strong indication that the company has what it takes to weather the current economy.
If you would like to know more about our solutions, contact us for a free consultation.