Build Apps Faster with Automatic Thumbnails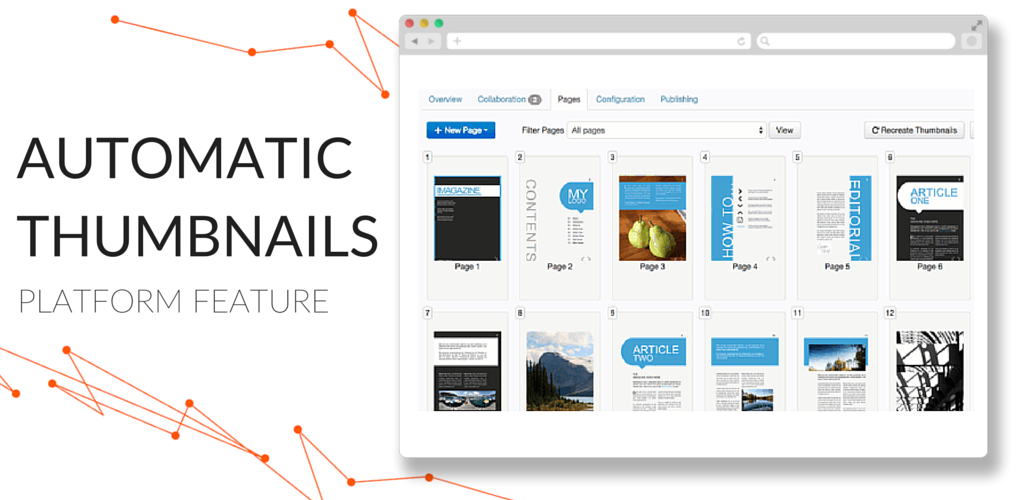 Liquid State is all about agility and flexibility, so we are constantly working to make creating, managing, and updating app content more streamlined than ever before.
Recently, our development team released an improvement to how page and issue thumbnail images are handled in the Liquid State system.

In the past, you were required to manually create and upload thumbnail images for every issue within your app, and every page that was included within an issue's table of contents.
Automatic Thumbnails
Now, all thumbnails are automatically created for you.
Page thumbnail images are generated from a snapshot of your pages' content.
Issue thumbnail images are based on the first page within the issue.
All thumbnails are generated within a few minutes of your content being imported.
Of course, you can still upload custom thumbnail images for your pages and issues – the choice is yours.
We've also added a handy 'Recreate Thumbnails' button on the Pages tab, so you can easily generate thumbnails for your existing content.
This thumbnailing improvement is just a small glimpse of the exciting features that are on their way.
We'll post again soon with details about changes to the Liquid State app creation system, the Liquid State Cloud user interface, and Liquid State's platform subscription pricing.
If you have any questions about the features mentioned above, don't be afraid to get in touch with us by filling in contact form.